Latest News
Lotto Results
30th December 2021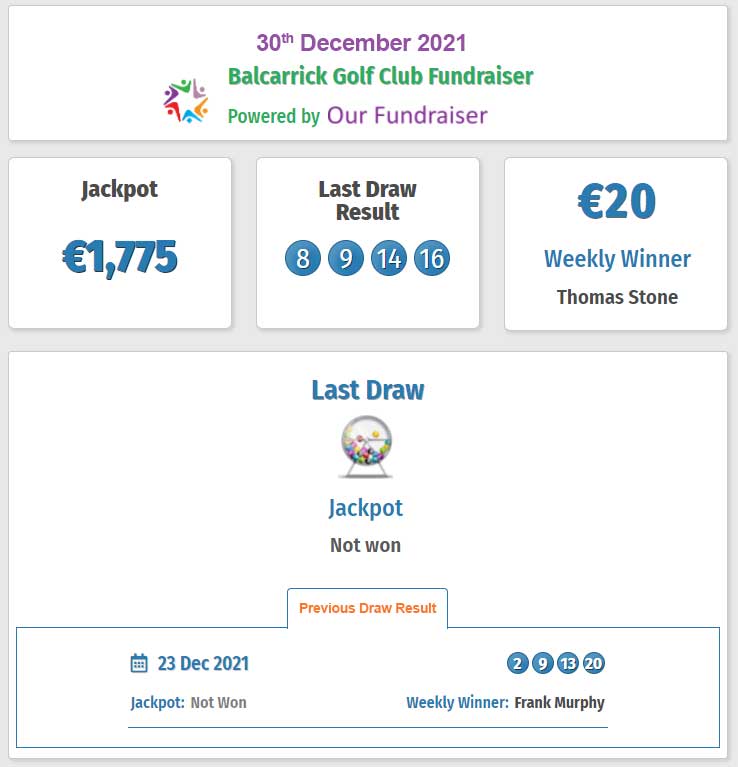 Click Here to select your numbers for next weeks draw
---
Lotto Results
16th December 2021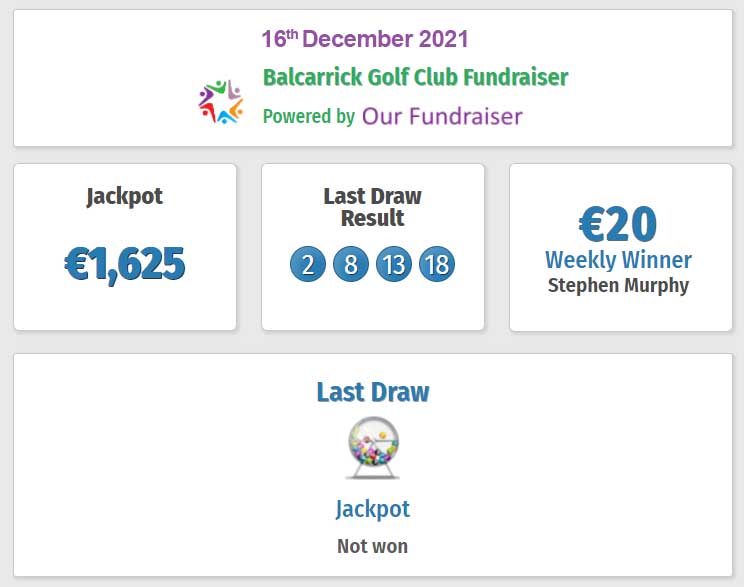 Click Here to select your numbers for next weeks draw
9th December 2021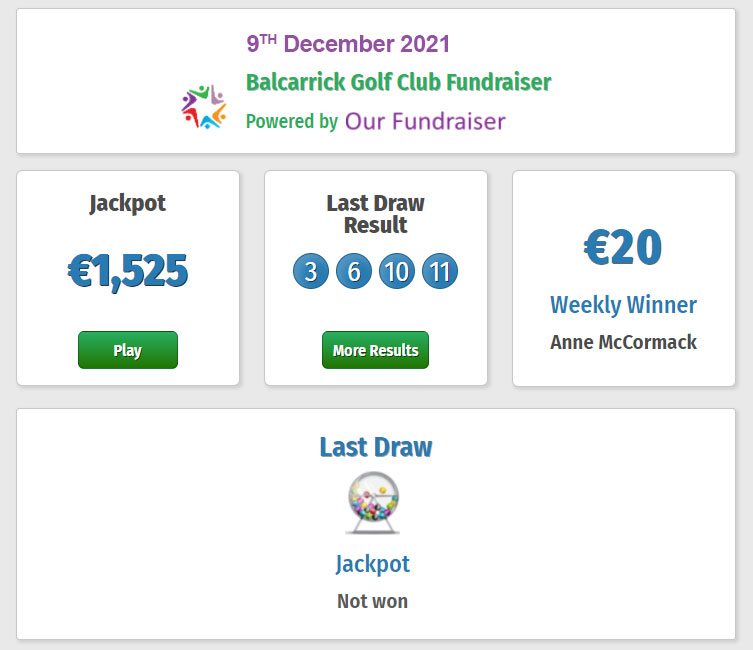 Click Here to select your numbers for next weeks draw
---
2nd December 2021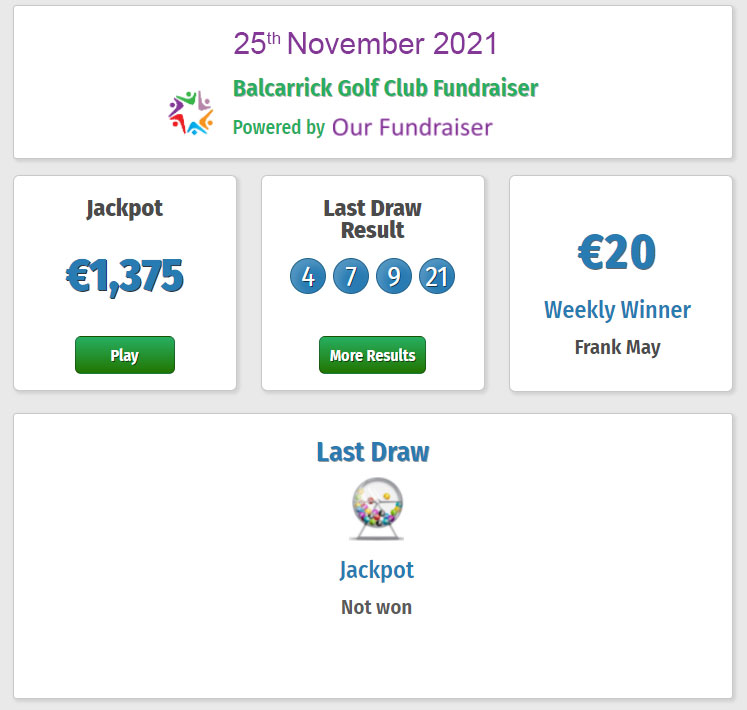 Click Here to select your numbers for next weeks draw
---
Lotto Results
18th November 2021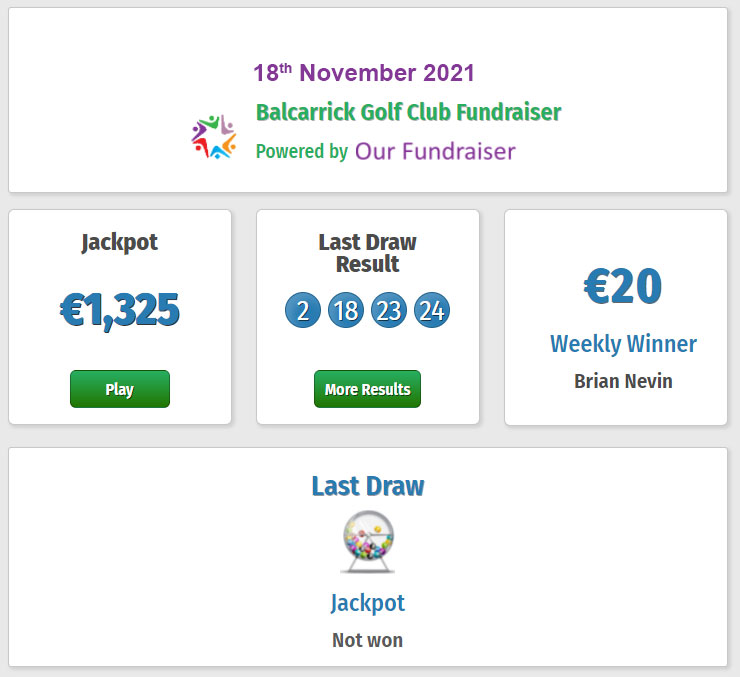 Click Here to select your numbers for next weeks draw
---
Competition Purse
We are implementing the purse for all competitions beginning on Tuesday 15th June. That means that the purse will be in operation from the time that that competition may be booked, which is Tuesday 1 June
Click Here for more information.
---
!!!FORE!!!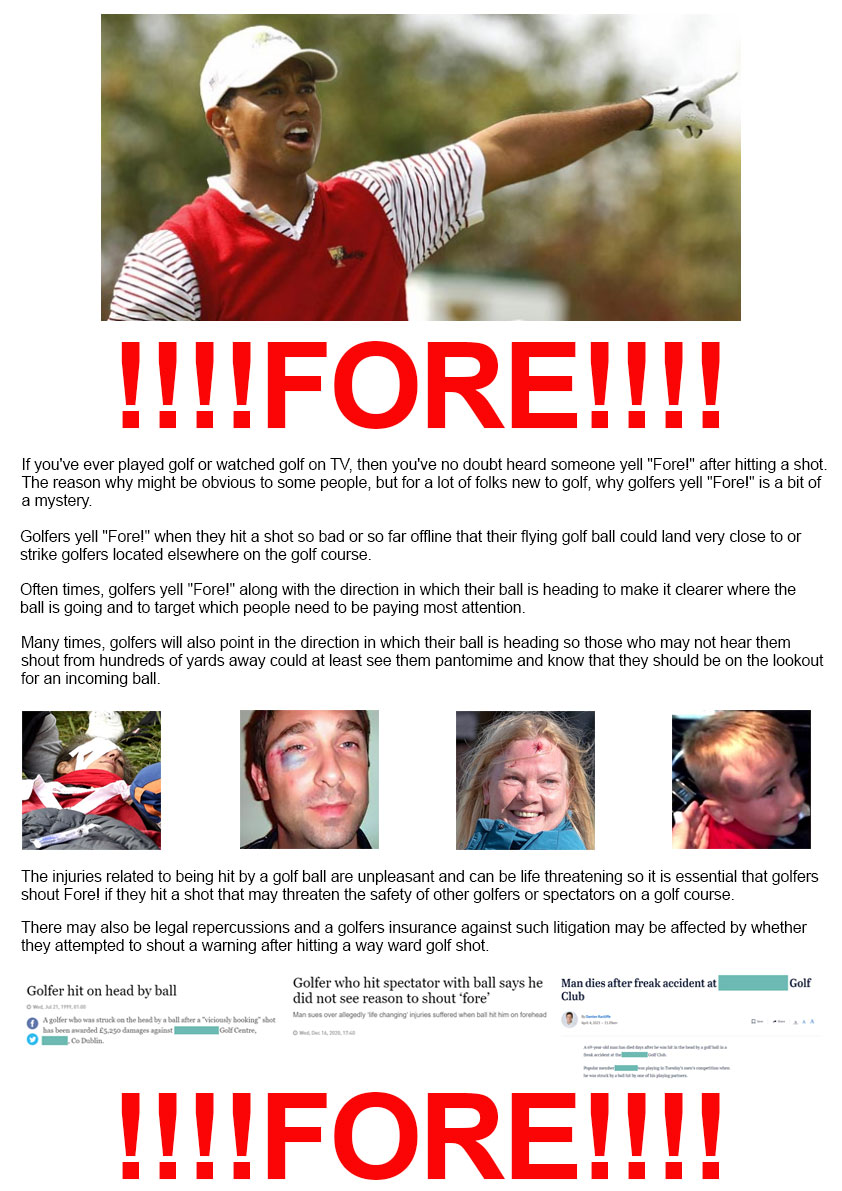 ---
Stephen Ennis Memorial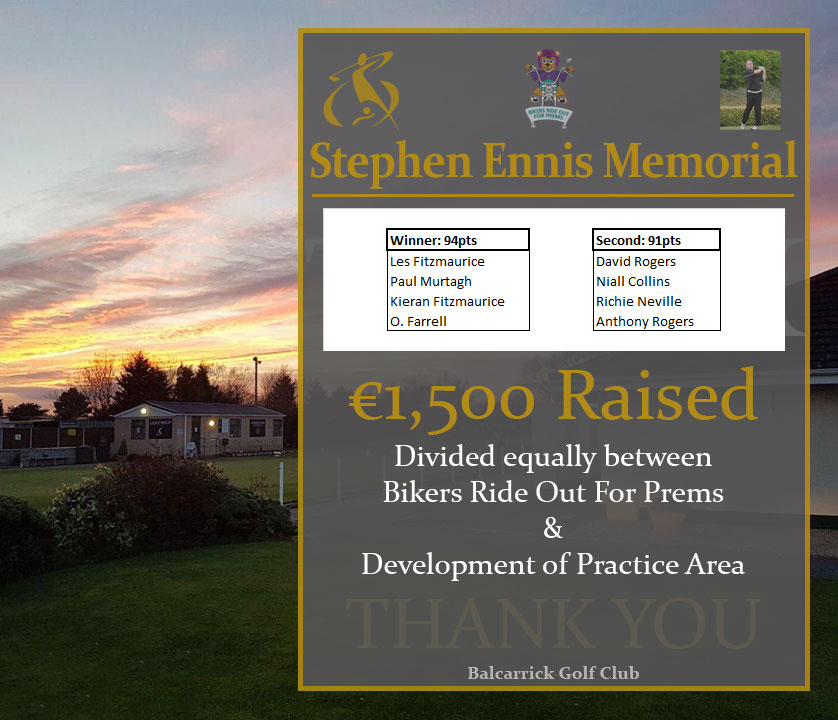 ---
How to repair a pitch mark
---
29th July 2021
Lotto Results 22nd July 2021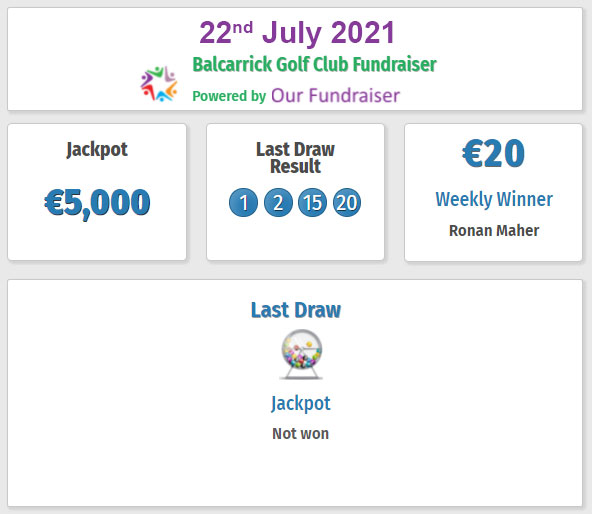 Lotto Results 15th July 2021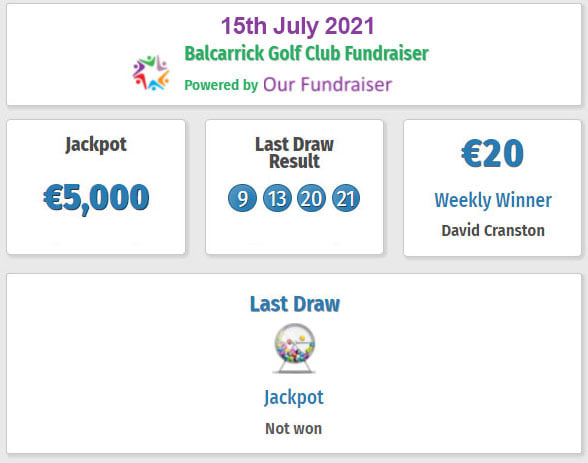 ---
Changes to our timesheet from 10th May 2021
From 10th May we will be again running members competitions while also welcoming members guests and visitors back to our fairways.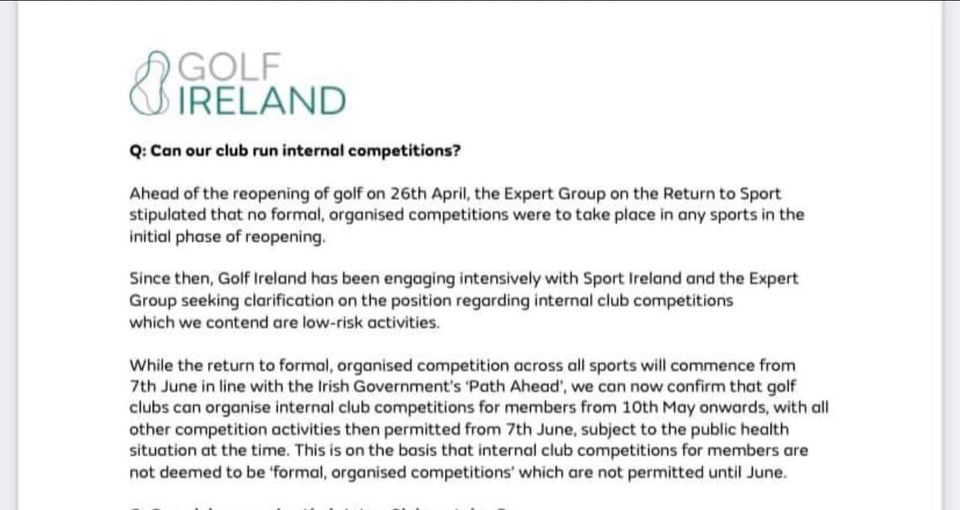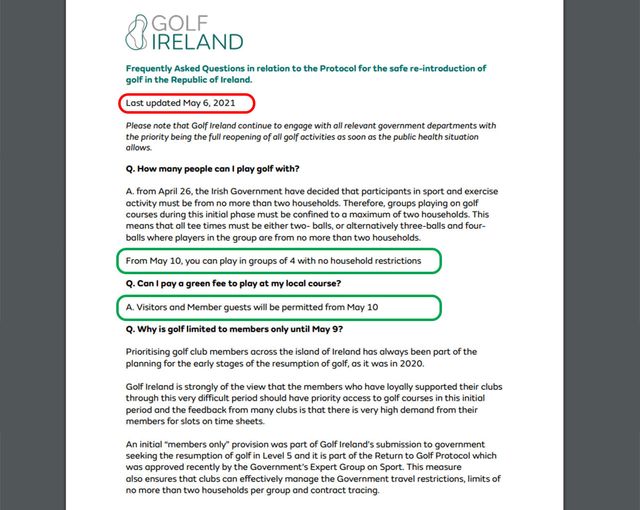 Help us all to stay safe
---
Return to Golf Protocol – Golf Ireland
***UPDATED 30th APRIL 2021***
Click Here to view Golf Ireland's Return to Golf Protocol
Members Takeaway menu from 26th April 2021
We're delighted to announce that Jacinta and her Caddy Catering team will be serving food for takeaway to our members from 26th April!
---
Course Handicap Table Slope Rating
The slope ratings for our Blue, White, Yellow and Red Tees have been published to our website. Click Here to view.
---
Timesheet Re-opening Monday 19th April
Timesheet will open, to Balcarrick Golf Club Members only, on Monday 19th April at 7pm, for the week Monday 26th to Sunday May 2nd.
For the 3rd of May onwards the timesheet will open 7 days in advance of each day.
To comply with Government guidelines the timesheet will be available for two balls at eight minute intervals.
This will be for casual golf only, no competitions. Members must book on the timesheet in advance and must check into the pro shop and be recorded. There will be no catering available.
Click Here to view The Golf Ireland protocol for return to golf.
---
Lotto Results 8th July 2021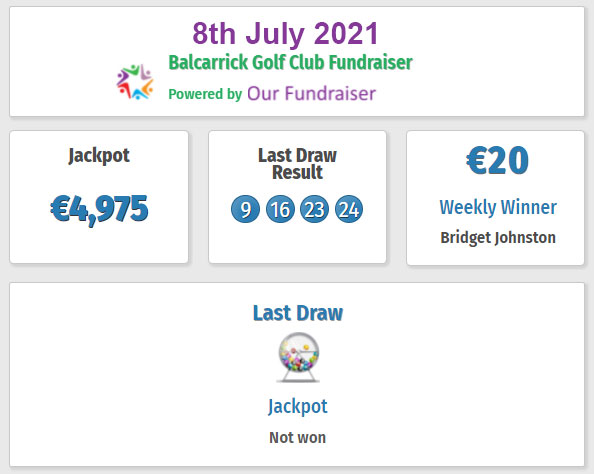 Lotto Results 01/07/2021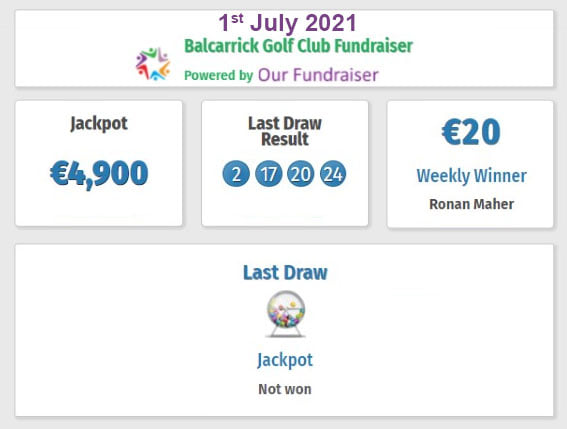 Lotto Results 24/06/2021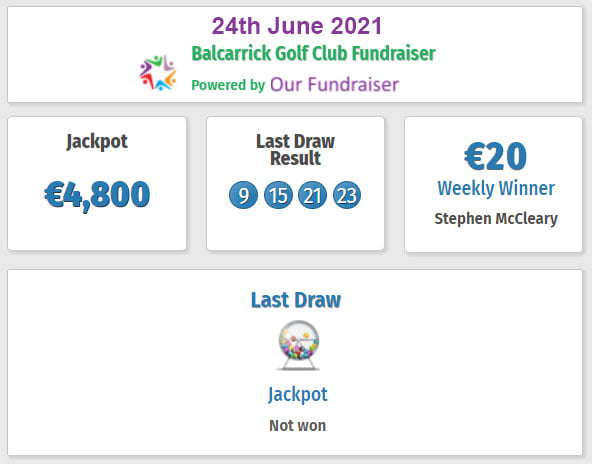 Lotto Results 17/06/2021
Lotto Results 10/06/2021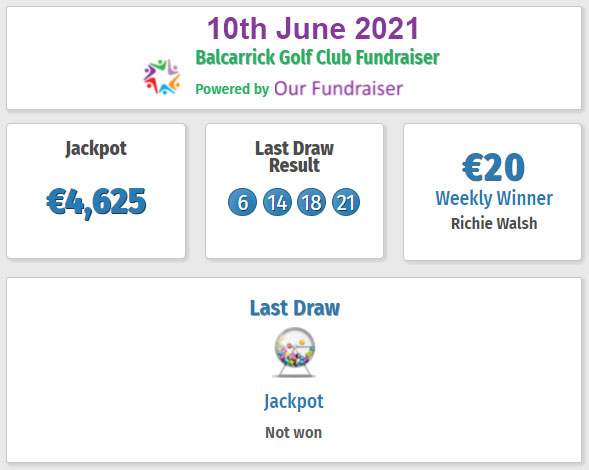 Lotto Results 03/06/2021
Lotto Results 27/05/2021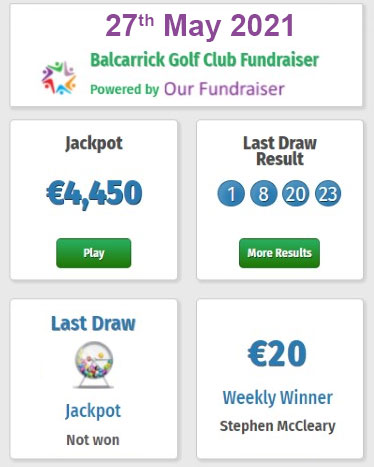 Lotto Results 20/05/2021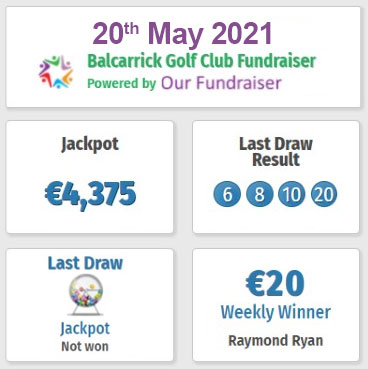 Lotto Results 13/05/2021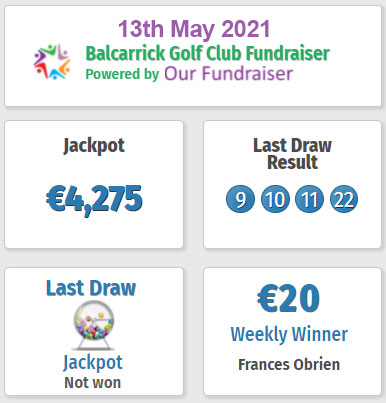 Lotto Results 06/05/2021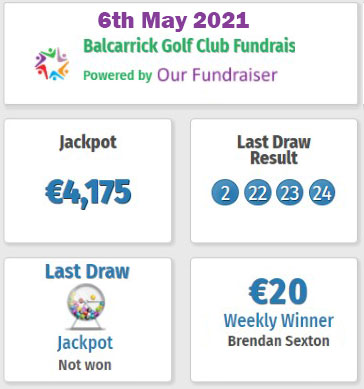 Lotto Results 30/04/2021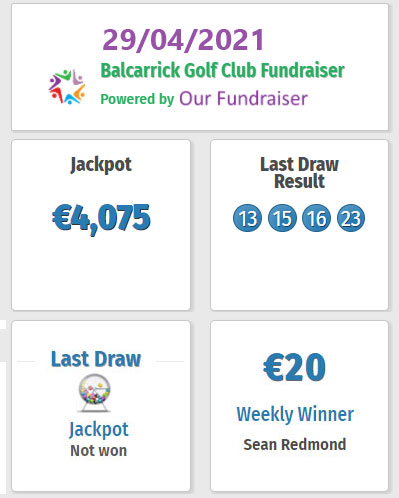 Lotto Results 23/04/2021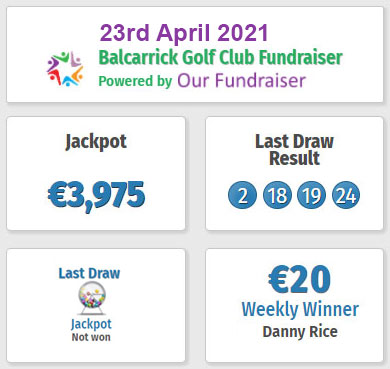 ---
Get Into Golf 2021
The Get Into Golf programme is back for 2021.
Contact Marie @ 086-2371233 / lcbalcarrick@gmail.com to book your place or click here for more information.
---
Lotto results 15/04/2021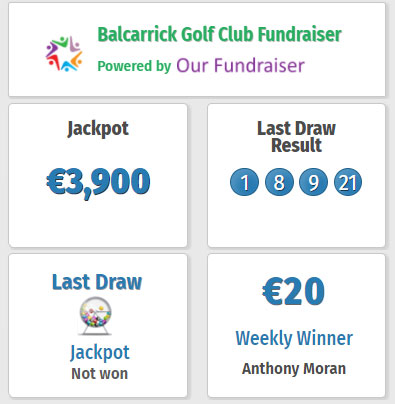 Click Here to select your lotto numbers and be in with a chance of winning our jackpot
Lotto results 08/04/2021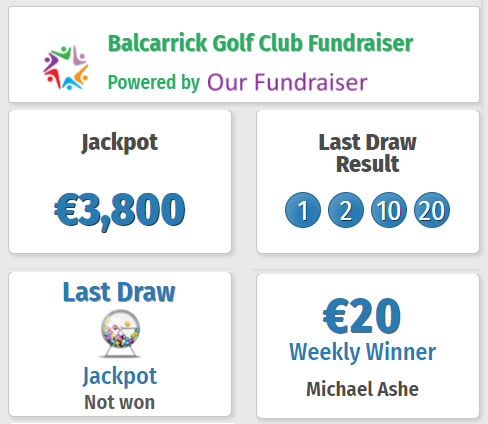 Photo's 04/04/2021
---
Easter Draw and Lotto results 01/04/2021
Congratulations to all the winners in our Special Easter Draw.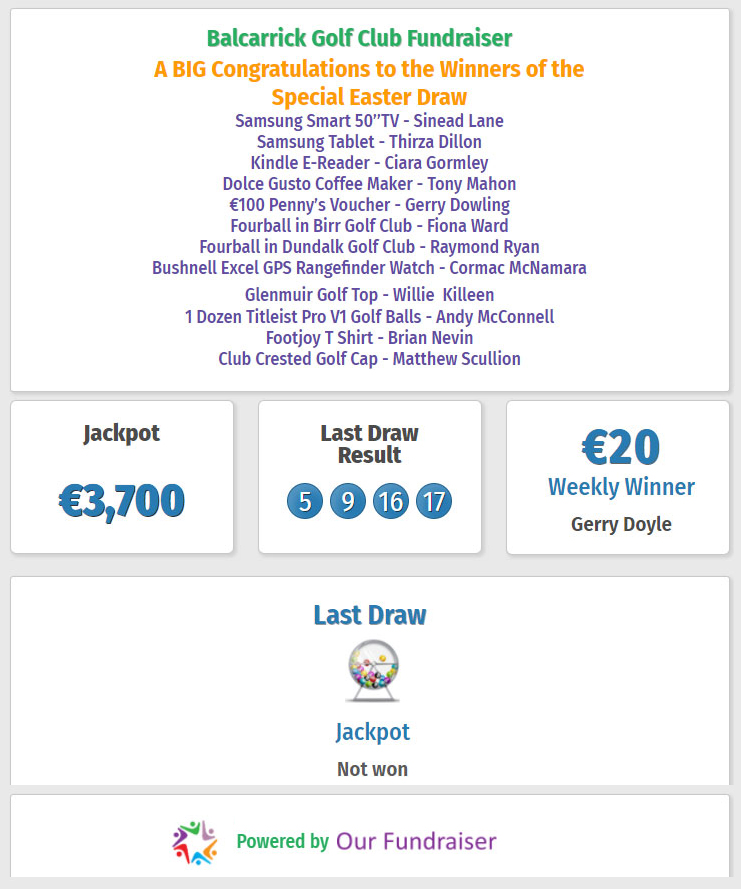 ---
Work completed on the path to our 1st tee.
Fingers crossed we get to see it in person in the near future.
---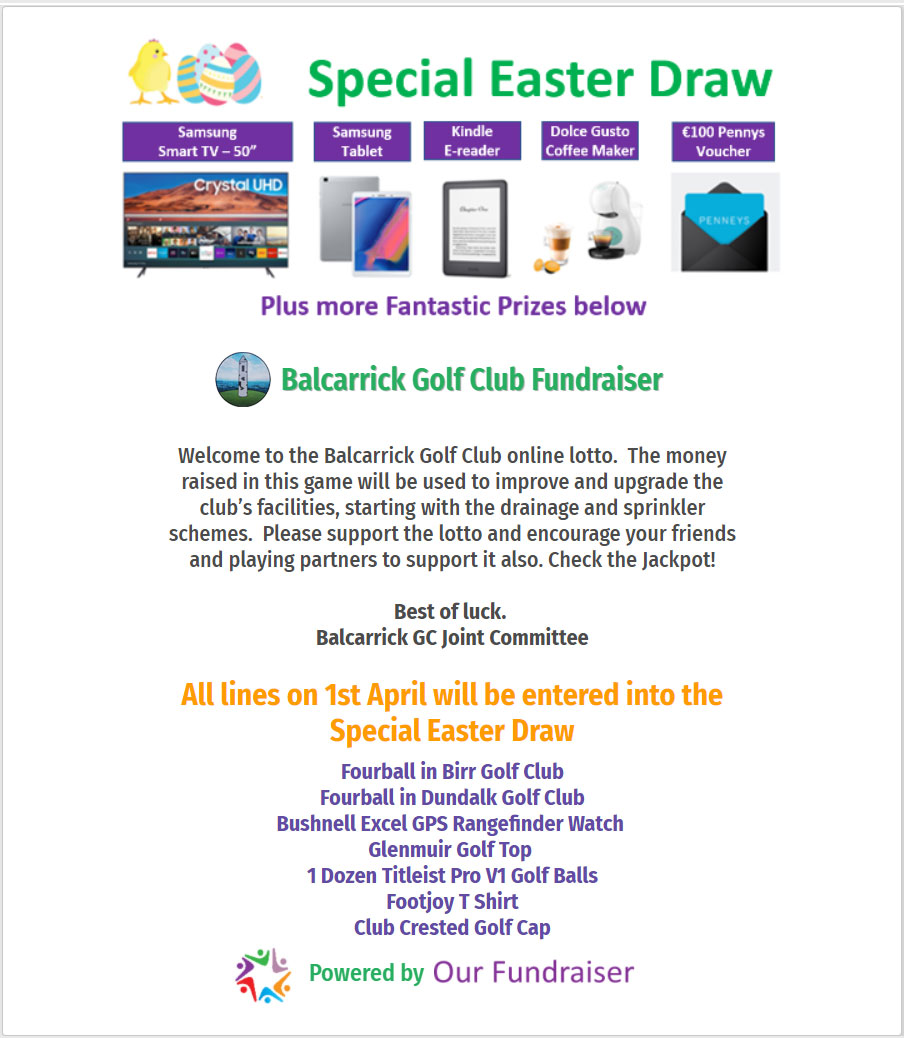 Click Here to select your lotto numbers and be in with a chance of winning our €3,575 jackpot plus some great extra prizes for Easter
---
---
Draw date: 25/03/2021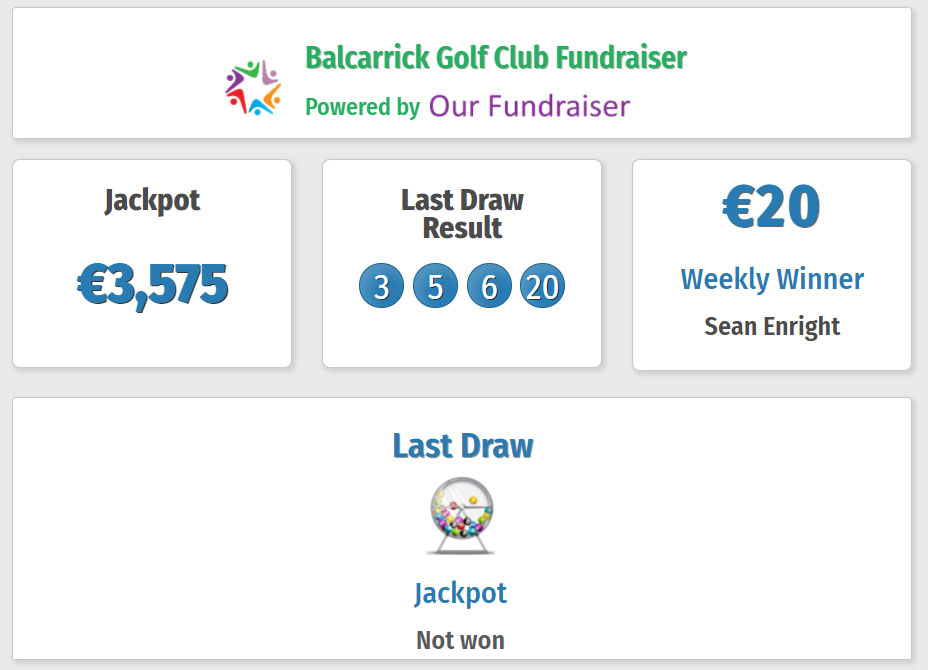 ---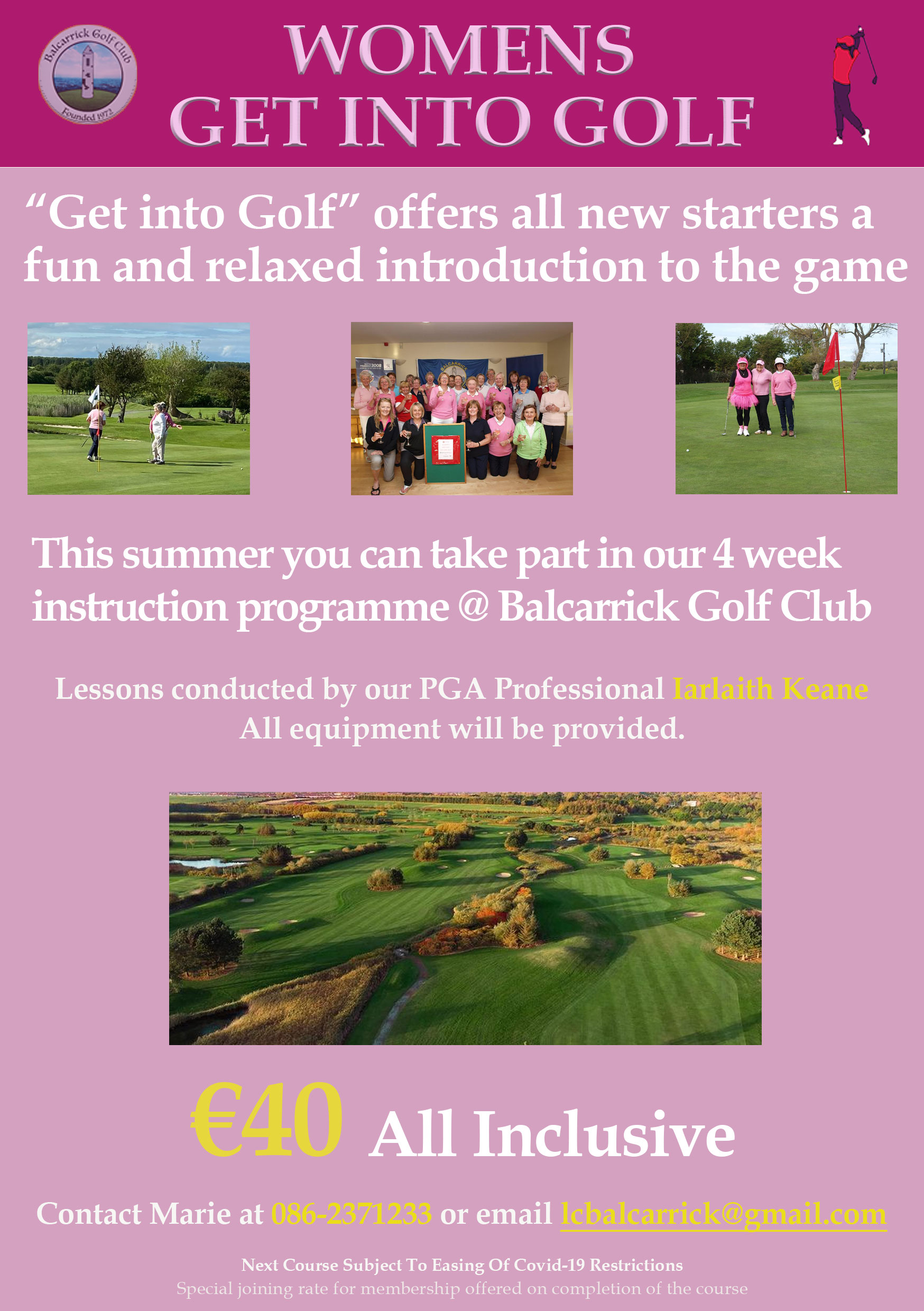 ---
Draw date: 18/03/2021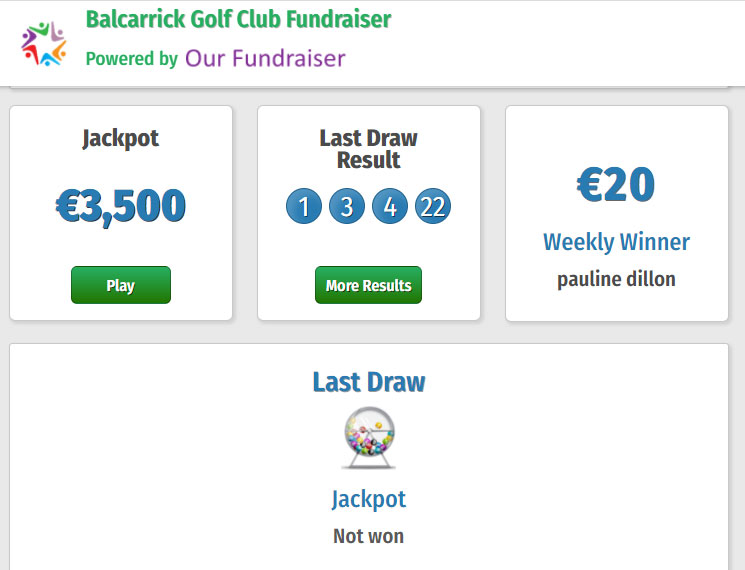 Click Here to select your lotto numbers and be in with a chance of winning our jackpot
Draw date: 11/03/2021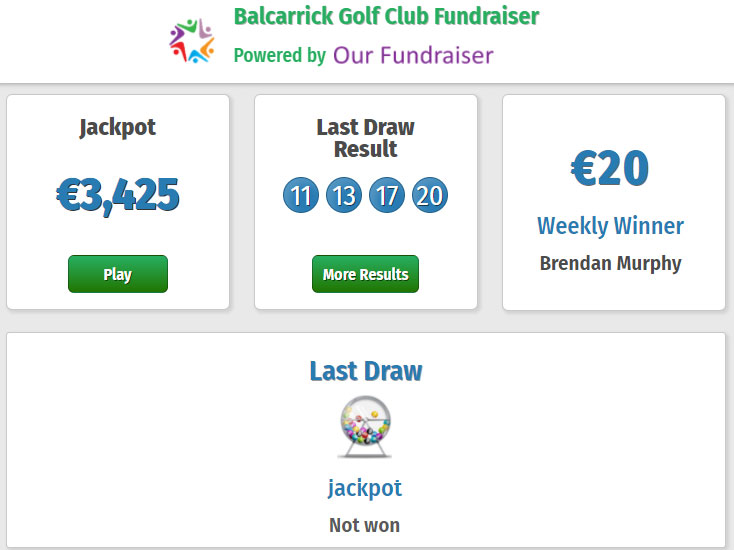 Draw date: 04/03/2021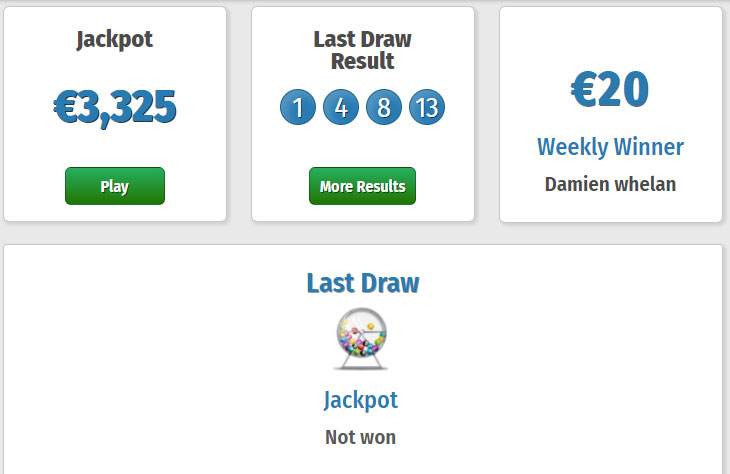 Draw date: 25/02/2021 and previous since Lotto returned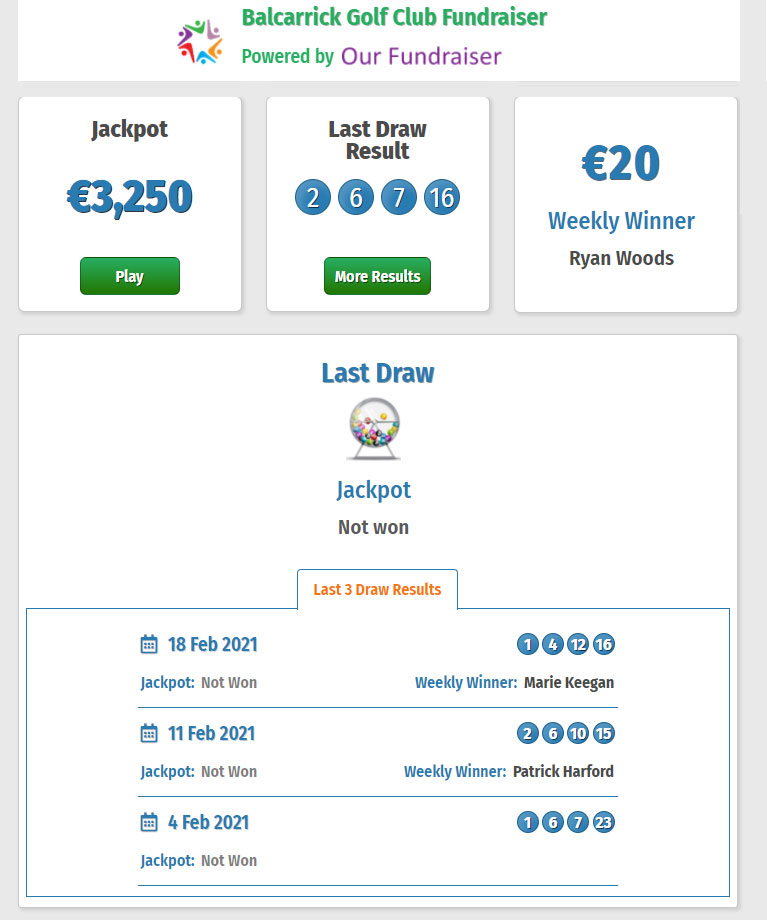 ---
Introductory Membership Offers 2021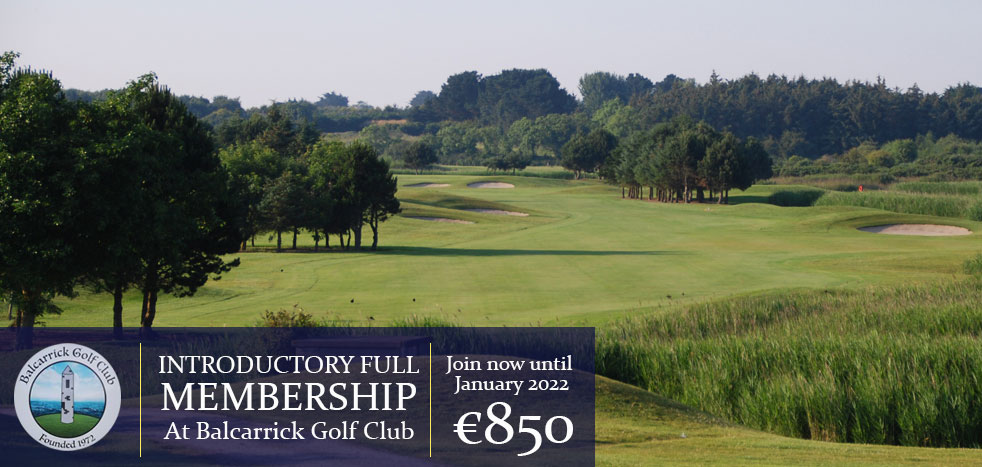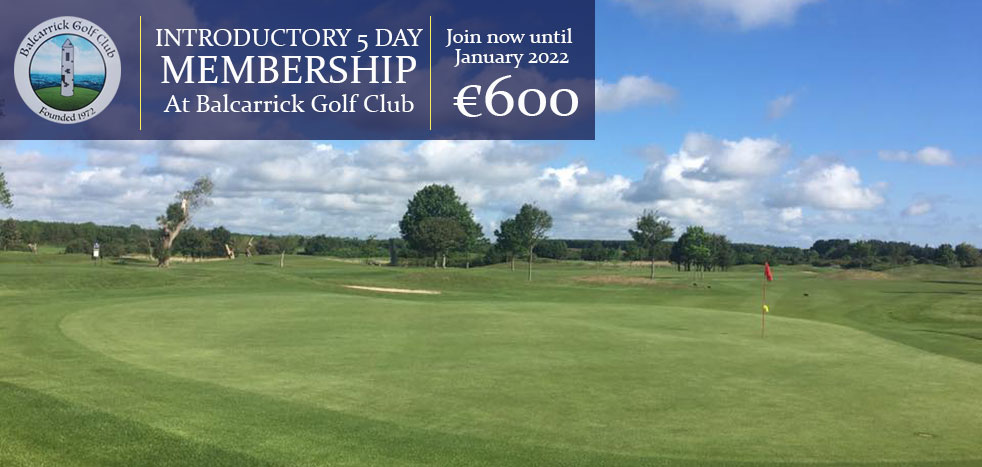 Visit our Memberships page for all the details
---
Article on our orphaned cygnets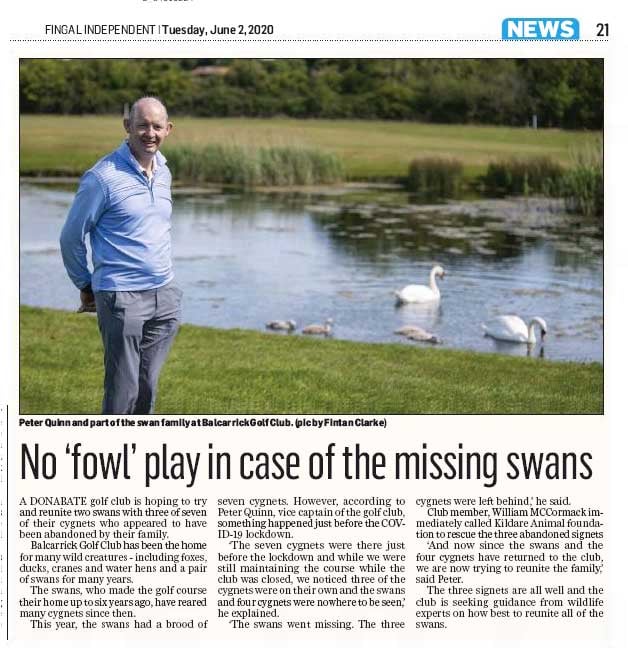 ---
We're back!
Some pictures of our members getting back to the golf course after almost 2 months of lockdown
---
Course Record
Congratulations to Mary Connor who had a nett score of 67 in our club championship in September.
Christmas Lunch 2019
Celebrating 21 years of Brenda Hayes organizing the Ladies Summer & Christmas golf & lunch competitions. Thank you Brenda
LC Laura O Farrell presenting the prizes to the winners of the winter hamper & turkey voucher competitions.
08/12/2019: Numbers 5, 12, 14, 21. No Winner of Jackpot €2000
€20 consolation prize winners Majella Cafolla, Bernie Tunstead, Sheila Crilly
01/12/2019: Numbers 3, 10, 20, 22 No Winner of Jackpot €1950
€20 consolation winners; Linda Sherlock, Lara Tully, Ray Ryan + Padraig
Lotto: 24/11/2019: Numbers 4, 11, 17, 23 No Winner of Jackpot €1900
Hole-in-One at the 16th on the 16th Nov, Congratulations Johnny Murphy
Lotto: 10/11/19 Jackpot €1800 No winner Numbers 1, 4, 5, 14
Annual Mass
Annual Mass for deceased members, relatives of members and friends of Balcarrick will take place on Thursday 21st November at 7.30pm.
The Choir Go-Leir will be in attendance.
Members who may like to have the name of a loved one remembered during the mass can do so by contacting the office or any of the following, Jimmy King, Madelaine Collins, Mick /BernieTunstead to be included on the list.
Nine & dine – September
We had a great turnout for our last nine & dine of the year. 42 players with two juniors from Royal Tara playing, which was a pleasure to see. The evening had everything you could wish for Weather—-Golf—-Banter—-Craic and a bit of singing!
GOLF WINNERS
Darcy, Ross & Joe Branigan (Royal Tara) and Colm Corrigan (Royal Meath), a family team (father, son, daughter and grandfather.
RUNNERS UP
Lady VC Marion and John Goss, Grace Conway and Hank Kearney (Croballis)
QUIZ WINNERS
VC Paul Byrne, Sheila Crilly, Doris and Larry Kilroy
SPONSORS on the night were Doris & Larry Kilroy and Madeline Collins.
Thanks to all involved in another great night.
The total sum accumulated this year was €1,042.
A message from Bikers Rideout for Prems
We have our golf Classic in balcarrick on the 23rd of August, shotgun start tee-off 3.00 pm. Scramble competition standard rules one score to count at each hole.
It's a team event €200 per team as organised by Steven Ennis every year for the past 6 years.
It's €10 for the golf and €10 for tea coffee and your dinner when you come in, the rest of the money from the €200 will go to the charity to buy life saving equipment for 12 hospitals Around Ireland with ICU's for premature babies.
The charity has also got a cup made and engraved in memory of Stephen Ennis and all the work He has done for Bikers ride out for prams and balcarrick golf club. At a rough estimate we believe Stephen and Balcarrick have helped raise up to €16,000 over the past 6 years. All this money has bought equipment for ICU's.
If members from balcarrick would like to play they can turn up on the day for the shotgun start at 3.00 pm. We have 11 teams signed up so far. Members can play that morning if they like payday money at the pro shop pick up the card and when they're finished drop it back to the pro shop.
1st prize is worth €1,200 With more prizes to come. I will be there on the day from 1:30 p.m. thanks for your help and hope your members can play.
Regards,
Sean Brennan
Visiting Lady Captains
Nine & Dine – August
Contrary to what the weather forecast said Friday evening turned out to be a lovely evening with only a challenging breeze to deal with. This can be verified by the twenty two people who played.Lucky enough more people came out for the Meal an Quiz which made it an enjoyable evening and good fun by all.Our Capt Jim came up trumps again for the third time this year with his team for the golf and quiz, but were ran very close in the quiz by Laura and Will Curtis and Pauline and Maurice Buckley with Jim"s team winning out on a tie break.
GOLF RESULT WINNERS
Capt Jim Robinson Sheila Crilly Doris and Larry Kilroy.
QUIZ WINNERS
Capt Jim Robinson Sheila Crilly Doris and Larry Kilroy.
SPONSORS
Bridie Johnston and Christy O Driscoll
Our next outing is on 30th of August, so try and make the date.
Stephen Ennis
It is with deep regret and sadness that we advise of the death of our PGA Professional Stephen Ennis, following an illness faced with great courage. He will be sadly missed. Our thoughts and prayers are with his wife & family. May he rest in peace.
Captains Day 2019
Lady Captains Day 2019
Nine & Dine July
It was another successful event this month with a lovely evening and a good turnout. All we can say about the quiz is that it was something else! I think Clucko has not recovered yet but at least we got a result…..
Congratulations to winners President Teresa Ranson, William McCormack, Colin Moloney & James Smyth from St. Margarets and runners up Anthony Manning, Noel, McDermott, Sean Manning & Barry Flynn from Hollystown in the golf and to Alice Hartford, Sheila Rafter, Sheila Crilly and Larry Kilroy for their win in the quiz.
Prize Sponsors on the night were Teresa Ranson, William McCormack and Pat Cluxton.
Thanks to everybody who supported this months event. The next nine & dine will take place on Friday 2nd August so come along, bring your friends, and join the fun.
Changes to club lotto
Going forward the club lotto will be changing. The new lotto will consist of selecting 4 numbers from 1-24.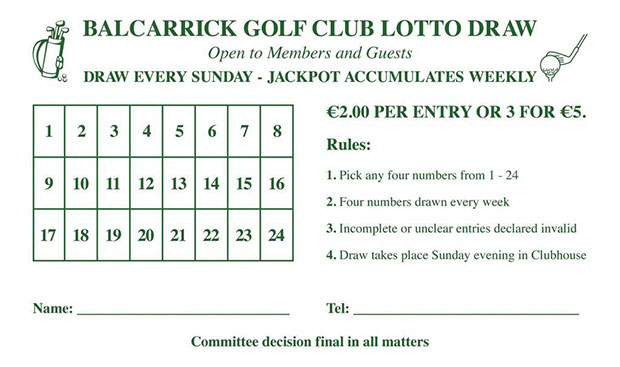 All other rules related to the club lotto remain the same:
Pick any

FOUR

numbers from

1-24

€2 per entry or €5 for 3 entries (place 2 envelopes + €5 in one envelope)
Four numbers drawn every week
Draw takes place Sunday evening in the Clubhouse
Incomplete or illegible entries will be declared invalid
If the jackpot is not won, a draw for 3 x €20 prizes will take place
Weekly Results will be posted on the club website, notice board and facebook page
Committee decision is final in all matters
President's Day 2019
Past Captains Memorial & Australian Spoons
Team Event & Summer Lunch
ILGU Cups & Shields
Balcarrick Golf Club hosted a number of ILGU team events today, Junior, Intermediate, Minor & Challenge Cup teams from Co. Louth, Howth, Sutton, Corrstown, Elmgreen, Roganstown, Royal Tara & Headford
PEUGEOT 3-Lady Team Event
Wednesday 19th June 2019
PEUGEOT 3-Lady Open Team Event
Winners
Sheila Crilly/ Doris Kilroy / Clare Cluxton
84 Pts
Second
Echo Tong / Gillian Poon / Wenjuan Zhao
82 Pts
Third
Alison Farnan / Michelle De Hgene / Eileen McAdoo
80 Pts
30 Teams Played
Challenge Cup
Commiserations to our Challenge Cup team who narrowly lost to Elm Green 3-2 today in a hard fought match with the last game being decided on the 18th green.
Our ladies played some fantastic golf to beat Deer Park, St. Anne's and Swords Open to advance to the fourth round of this years competition.
Thanks to all of you and manager Sheila Crilly for your efforts and for committing your time to represent the club so well throughout this competition.
Ladies Get Into Golf
Balcarrick Golf Club has just completed it's annual Get Into Golf programme which was run over the last 8 weeks. Thirteen ladies took part & were ably tutored by Ed Martin. Lady Captain Laura and all members of Balcarrick Golf Club extend a very warm welcome to our GIG ladies who are joining the club & we look forward to seeing you on the golf course.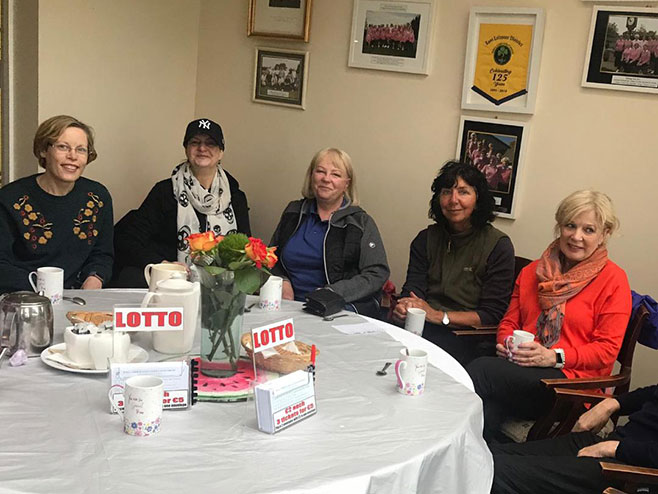 Captain's Birthday
A very happy birthday to Lady Captain Laura O'Farrell from all at Balcarrick Golf Club xx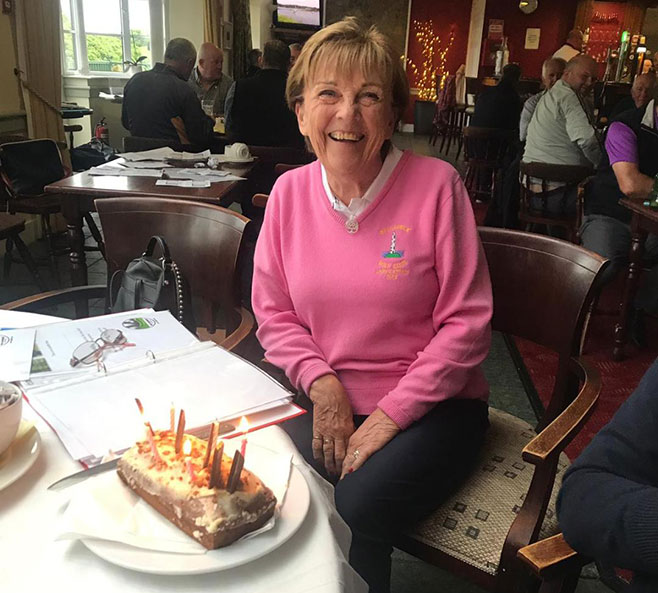 Challenge Cup
Balcarrick take on Elmgreen in the next round of The Challenge Cup takes place on Sunday 16th June @ 4pm at Balbriggan Golf Club. The very best of luck to manager Sheila Crilly and her team. If you have a bit of time to spare on Sunday afternoon please come out and support our ladies in their efforts to progress in this competition.
Nine & Dine
The second Nine & Dine of 2019 took place last Friday 8th June and although the weather was slightly more threatening than last months event there was a great turn out on the night.
It was very much captains night in Balcarrick!
Congratulations to Winners Capt Jim Robertson, Sheila Crilly and Larry & Doris Kilroy and to Runners Up Lady Vice Capt Marion & John Goss and Maurice & Pauline Buckley in the golf and to Capt Jim Robertson, Sheila Crilly and Doris & Larry Kilroy for their win in the quiz.
Prize sponsor on the night……… Captain Jim Robertson
Thanks to everybody who supported this months event. The next nine & dine will take place on Friday July 5th so why not come along and join the fun.
O'Grady Cup
Congratulations to our O'Grady Cup team who beat Howth GC 3-2 to advance to the quarter finals of this years event. The next match will take place on or before 8th July and will be against Luttrellstown or St. Anne's (TBC). Many thanks to our members who took the time to come out and support our team today. We look forward to seeing you all again when we battle to win a place in the semi finals!
Nine & Dine
The first Nine & Dine of the year took place last Friday 10th May and thankfully the weather was fantastic and added to the wonderful atmosphere on the night.
Congratulations to Colm Corrigan, Fergal O'Hanlon and Clare & Keith Cluxton who were victorious in the golf. And also to Ann & Christy O'Driscoll and Violet & Frank Barry who saw off all the competition in the table quiz.
Thanks to Patricia & James Daly who sponsored the prizes on the night, to Jacinta Gorman and her team for the delicious supper and to Pat & Keith Cluxton for a great nights entertainment.
The next Nine & Dine will take place on Friday 7th June and promises to be another great evening and night of golf, grub and quizzing for everyone. So come along, invite your friends and family and take your place in this fun night of competition.
Lady Past Captains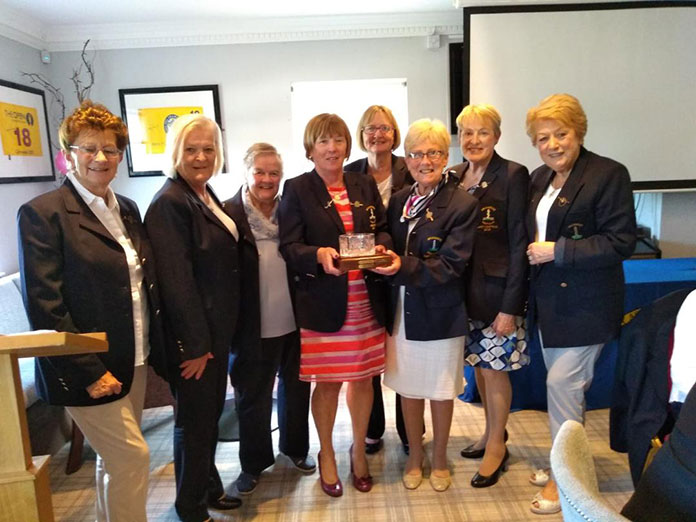 Congratulations to the Balcarrick Lady Past Captains who won the Y2K association prize in Ashbourne Golf Club Today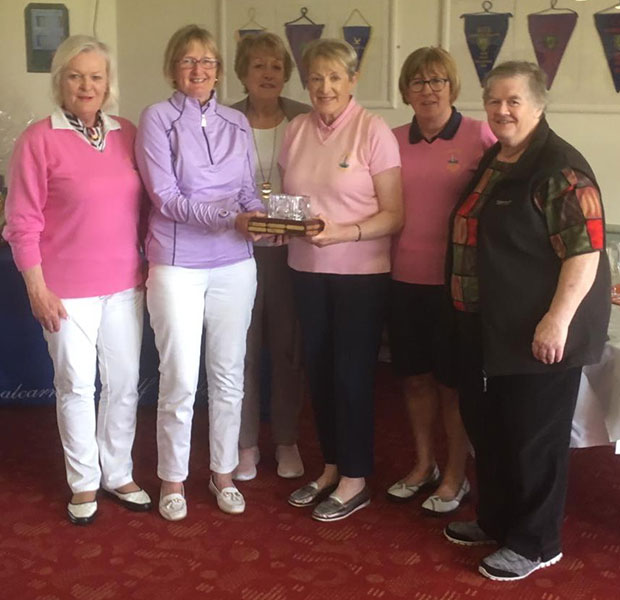 The Y2K Association winning team with Past Lady Captains
Past Lady Captain Bridie Johnston, winner of Y2K Association Golfer of the Year, presents Lady Captain Laura with her trophy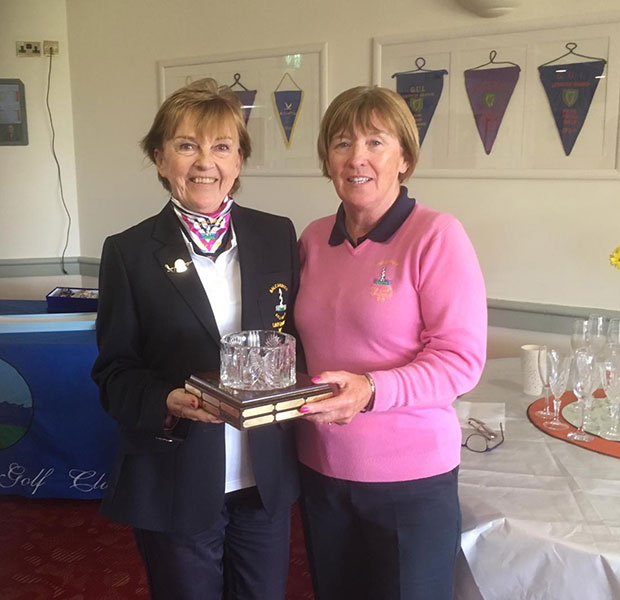 On behalf of the winning team of Past Lady Captains President Teresa Ranson presents Lady Captain Laura with the Y2K Association trophy. Another for the cabinet.
O'Grady Cup
Congratulations to our O'Grady Cup team who beat Hollystown GC 3-1 in the preliminary round of this years competition. The round 1 match will be played on or before 10th June, against either Roganstown or Howth
Play in Pink Money Raised
Check out some pictures taken on the day on our Gallery Page courtesy of William McCormack
Balcarrick Match Play Draws 2019
The draws have been made for this years club matchplays:
Singles Match Play
Seniors Matchplay
Fourball Match Play
Foursomes Match Play
The very best of luck to all involved.
Metropolitan Cup
Commiserations to our Metropolitan Cup team who were defeated in their Round 2 match by Malahide.
Irish Mixed Foursome
Congratulations to our Irish Mixed Foursome team who beat The Island 4-1 on Saturday 27th April to progress to the second round of this years competition.
Conditions were difficult with gale force winds throughout the day but our Men & Women played some great golf to overcome our near neighbours.
Metropolitan Cup
Congratulations to our Metropolitan Cup team who beat Corballis Links 5 ½ to 3 ½ on Saturday 20th April.
In perfect conditions, our lads put on a great display to beat our local rivals in a hotly contested series of games. We look forward to their next round match against either Malahide or Howth Golf Clubs over the next few weeks.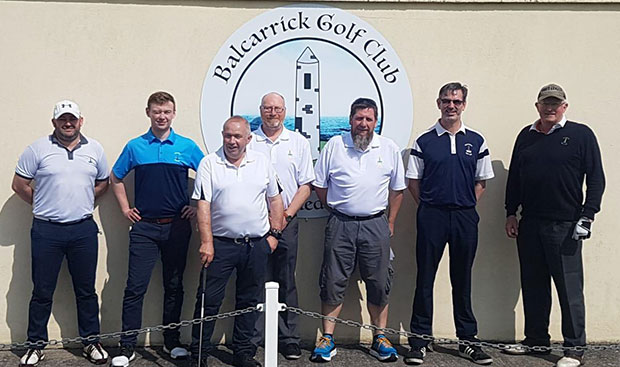 (L-R) Phil Redmond, Sean Malone, Gerry Roberts, Jim Robertson, Paul Byrne, Paul Murtagh & Billy Guilfoyle. (Missing Niall Foley & Anthony Manning)
Challenge Cup
Congratulations to our Challenge Cup team who beat St. Anne's in Luttrelstown on Sunday 14th April to advance to the third round in this years competition.
Uden Cup 2019
Commiserations to our Uden Cup team who were beaten 3-2 by Balbriggan Golf Club on Sunday 14th April. Despite a great effort in challenging conditions our boys were narrowly defeated on the day.
Fingal Seniors Men 1st match V Westmanstown was postponed due to waterlogging in Westmanstown. The match has been rescheduled for Monday 13th May at 11am.
Our next match will take place on Monday 29th April at 11am Versus Corrstown.
14/04/2019 Lotto Winner Stephen Keogh €1100 ( 4, 8, 24)
Play in Pink
Balcarrick Golf Club invites you to "Play In Pink" in aid of National Breast Cancer Research Institute on 6th May 2019.
All Members and Visitors Welcome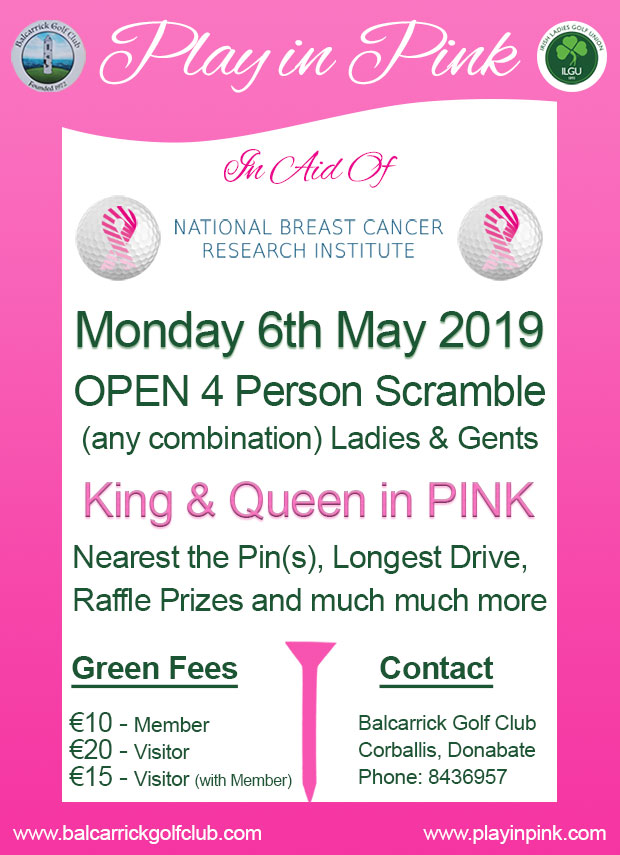 Men's Spring League
Standings after week 5.
Saturday Stadings | Sunday Standings
St Patricks Day Cup Winners
We had some tough conditions for all of our St. Patrick's Day Cups this year with gale force winds on Wednesday and Sunday. Congratulations to our overall winners who were Richard Bissett in the Men's, Mary O'Connor in the Ladies and Carmel Carton in the 5 Day Ladies competitions.
Full listings for all competitions are available on the Ladies and Gents results pages.
Challenge Cup 2019
Congratulations to the Balcarrick Ladies who won their first round match, beating Deer Park 3-0, in this years Challenge Cup (09/03/2019)
---
Inter-Club Competition and Rules
Click Here for GUI Tournament Contitions Book 2018
Competition
Manager
Information
Senior Cup
Joe Hughes
Singles Matchplay
Play off Scratch
Click Here for Senior Cup rules.
Barton Shield
Joe Hughes
Foursome Matchplay
Minimum Individual handicap 4 Matches played Off Scratch
Click Here for Barton Shield rules
Barton Cup


Lost Vs Roganstown

Niall Foley
Foursome Matchplay
Minimum combined handicap 14.
Lost Vs Roganstown Golf Club
Click Here for Barton Cup rules
Junior Cup
Willie Killeen
Foursome Matchplay
Minimum handicap 4
Click Here for Junior Cup rules
Jimmy Bruen Shield
Les Fitzmaurice
Foursome Matchplay
Minimum individual handicap 5
Minimum combined handicap 15.
No Caddies Allowed
Click Here for Jimmy Bruen rules
Metropolitan Cup


Rd1: Won Vs Corballis




Rd2: Lost Vs Malahide

Captain Jim Robertson
Singles Matchplay
Minimum handicap 9
Round 1: Beat Corballis Golf Links 5 ½ – 3 ½


Round 2: Lost Vs Malahide Golf Club


Click Here for Metropolitan Cup rules
Pierce Purcell


25th May 08:00 @ Beaverstown GC

Anthony Manning & Gerry Dowling
Foursome
Minimum individual handicap 11
Minimum combined handicap 25
No Caddies Allowed
Click Here for Pierce Purcell rules


25th May 08:00 @ Beaverstown GC

Irish Mixed Foursomes


Rd 1: Bt Donabate




Rd 2: Bt The Island


Rd 3: Vs Beaverstown
Sunday 19th May @ 14:30
Brenda Hayes
Foursome Matchplay
Combined Minimum handicap 19
Click Here for Irish Mixed Foursomes rules
Round 1: Beat Donabate GC 3-0
Round 2: Beat The Island 4-1
Round 3: Vs Beaverstown Golf Club
Sunday 19th May tee off 14:30
Uden Cup


Lost Vs Balbriggan GC

Paul Byrne
Fourball Matchplay
Minimum handicap 12.
Preliminary Round: Lost 3-2 Vs Balbriggan
Click Here for Uden Cup draw sheet and rules.
McDonnell Cup
Seamus McDonnell
Fourball Matchplay
Minimum handicap 16
Maximum effective handicap not to exceed 19
Click Here for McDonnell Cup rules.
Challenge Cup


Rd1 Deer Park




Rd2 Bt St Anne's




Rd3 TBC

Sheila Crilly
Singles Matchplay
Round 1: Beat Deer Park 3-0
Round 2: Beat St. Annes
Rd3: TBC at Donabate Golf Club
O'Grady Cup (Mixed)


Prelim: Beat Hollystown


Rd1: Vs Howth
9th June 2019 @ 2pm
Paul Byrne & Marrion Goss (Paul)
086 2248660
Foursome Matchplay
Minimum handicaps for Ladies 20
Minimum handicaps for Men 10
Preliminary Round: Beat Hollystown 3-1
Round 1: Vs Howth 9th June 2019 @ 2pm
Click Here for O'Grady Cup rules
Click Here for O'Grady Cup Draw
Revive Active Ladies Fourball


Lost Vs Roganstown

Teresa Ranson & Louise Stirling
Fourball Matchplay
5 Pairs
Combined handicap limit – Not less than 19, not more than 46


Lost Vs Roganstown

Minor Cup


Lost Vs Castleknock

Anne Byrne
Handicap 22-27 Lost Vs Castleknock
Junior Foursomes


Lost Vs Dundalk

Marion Goss & Fiona Donnellan
Combined handicap limit – Not less than 35, not more than 41


Lost Vs Dundalk Golf Club
---
Captains (Jim & Laura) Drive-In had to be postponed on health and safety advice, The event has been rescheduled for Saturday 9th February with the same arrangements in place.
2 shot gun starts, Formal handing over takes place from 12.30. Finger food and complimentary drink will be available from 12pm
CLUBS APPROVE GOLF IRELAND PROPOSAL
After landmark votes at separate meetings held today (Saturday 19th January 2019), the Irish Ladies Golf Union and the Golfing Union of Ireland have formally approved the establishment of Golf Ireland.
The Irish Ladies Golf Union approved a special resolution at their AGM, while simultaneously the Golfing Union of Ireland passed a motion at a Special General Meeting. In the case of the GUI, for the first time in its history postal voting was permitted, and 292 of the Union's 395 clubs availed of this facility. A further 34 clubs attended and voted at the meeting. 269 clubs attended the ILGU AGM to cast their vote.
RESULTS
GUI RESULT 94% in favour of the proposal
ILGU RESULT 100% in favour of the proposal
The result of both votes is the outcome of a three-year process of discussion and consultation between the two Unions, internally with their respective clubs and regional bodies, and externally with key national and international stakeholders.
It will mean the game of golf in Ireland will now, for the first time, have an all-inclusive governing body.
Throughout the consultation period, the benefits of this have been acknowledged in terms of attracting funding and commercial partners, as well as providing a boost for the image of the game. Once established, Clubs will only have to deal with one body when it comes to handicapping, inter-club events, club supports and game development.
2018
Ladies Fingal Seniors
Commiserations o the Fingal Senior Ladies who lost the final to Clontarf GC.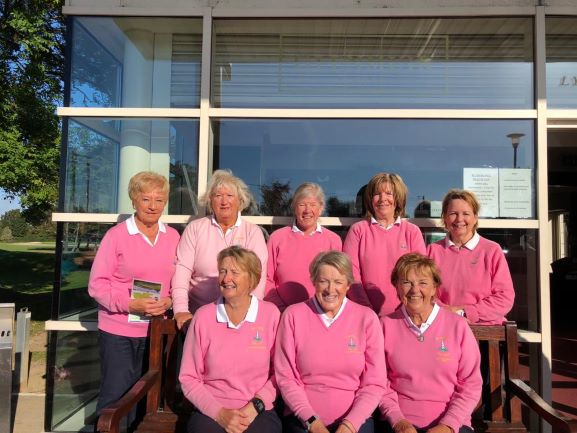 Congratulations to the Ladies Fingal Seniors team who made through to the final by beating Hollystown Ladies 2.5 to 1.5, details of the final to be announced shortly, however Balcarrick will play the winners of Clontarf and Malahide in the final.
Nine-N-Dine Sept 2018
A poor turnout for the last Nine an Dine of 2018 was disappointing for the organisers who wanted to finish the year with a grand finale of an evening.
It was a prefect night for golf, and only for Lady Capt Bridie and her "get into golf group", it would have been a pretty poor affair. Perhaps 3 fund raiser"s on the trot was asking a bit too much of our CLUB MEMBERS to attend.
However we must be very grateful to the regular CLUB MEMBERS who made the effort over the summer to come out and take part. All in all, a sizable contribution (€1400 +) was made for the season by the 9 and Diners.
The Final Results
GOLF WINNERS: Maura/Andy McConnell, LC Bridie/Maurice Bunyan.
RUNNERS UP: Capt James and Patricia Daly/ Sheila Rafter and VC Jim Robertson.
QUIZ WINNERS.______Capt James, Patricia Daly, Sheila Rafter and VC Jim Robertson.
Theresa Ranson an William McCormack
Sponsor"s on the night: Doris and Larry Kilroy, Theresa Ranson, Paula McCaughen, Sheila Rafter, Ann and Christy O' Driscoll Mick Tunstead William McCormack and Ciaran Higgins.
Many thanks to all who made, helped and attended and also not to forget our "Neighbours" at the bar who got involved.
Club Fundraiser August 2018
| | | |
| --- | --- | --- |
| 1st Place: | Ray Ryan (13), Sean Furlong (7), Jimmy Talbot (23), Jim Robertson (10) | 97 Pts |
| 2nd Place: | Jian Ju (16), Sean Zhou (19) , Echo Tong (21) , Steven Wang (35) | 94 Pts |
| ​3rd Place: | S. Murphy (15), Stephen Murphy (12) , Sean McNally (12), M O'Rourke (18) | 93 Pts (B9) |
| 4th Place: | Paul Milner (11), Dave O'Farrell (29), Neil Furlong (25), Dave Fynes (19) | 93 Pts |
| ​5th Place: | Patricia Maguire (18), Patricia Daly (25), Anne Dynes (32), Rosaleen Reid(35) | 91 Pts |
​Number of soft spikes: 248.
Nearest Guess 247: Michael Haverty
Putting Competition:
Lowest score: 9
Draw for winner: Les Fitzmaurice
​Nearest the Pin:
Ladies – Therese Mc Donnell
Men – Niall Foley
​Longest Drive:
Ladies – Eileen Waters
Men – Sam Howie
Forecast Score in All Ireland Football Final : Draw: Dave Rafferty
Fingal Seniors – Ladies
Congratulations to Balcarrick Ladies who beat Sutton in the Fingal Seniors on Friday 13th July. They now have 29 points and look likely to top the leader board going into the semi finals!
9NDine August 2018
We got a great number out to play the golf on the evening! forty in total, This was helped by our Lady Captain Bridie and the team that help her in the ladies " Get into golf campaign", we hope they all enjoyed the evening and we hope it will encourage them to come out again. Well done to all.
Result in golf: Winners Doris and Larry Kilroy Shiela Crilly and Vice Capt Jim Robertson.
Runners Up Fergal O Halloran Mitchell Roberts,Keith Cluxton and Brian Fogarty.(Back 3)
Quiz Winners. The quiz went to a tie break with the eventual winners doing the double on the night.
Doris and Larry Kilroy Shiela Crilly and Vice Capt Jim Robertson.
Sponsors on the night.
A special thanks to Maura and Andy O Connell. Aileen James, Betty Reilly and Joe Brannigan.
The last 9-N-Dine event for 2018 will take place on Friday 7th Sept .We would love to see more people attend the final 9-N-Dine social evening.
Fingal Seniors
The latest match in the mens Fingal series was a disaster for Balcarrick losing all 6 matches and this effectively ends our chances of qualifying for the playoffs, Westmanstown took no prisoners as they won most matches on the 18th, however, they were worthy winners.
The mens Fingal Seniors had a narrow defeat against the Island losing all 3 matches away but won 2 1/2 at home leaving them with 18pts after 3 matches. The next match is on the 18th June versus Westmanstown.
The ladies team also played in Fingal seniors and had a drawn match with Skerries leaving them with 16pts after 3 matches.
Competition Fees for 2018
The following rates apply to competition entry fees from 1st May 2018 until further notice.
Members €6.00
Seniors Open: Visitors & Guests €15.00
Opens: Wednesday/Thursday Guests of member €15.00. Visitors with GUI Card €20.00
Open Sunday: 5 Day Member €20.00, Visitors/Guests €25.00
Bank Holidays: Guests €15.00, Visitors €25.00
April '18 9NDine
We had another good turnout considering the weather with 35 playing the golf and a few coming out for the quiz. Winners of the Golf were Maura & Andy McConnell Pauline Dillon and Robert Walker.
R/ up Peggy & Frank Murphy Colm Corrigan and Joe Brannigan (Royal Tara)
Quiz winners.Sheila Crilly Willie Kileen Doris & Larry Kilroy.
Sponsor on the night Clare Cluxton.
Our next Nine an Dine is on the 18th of May so hopefully the weather will be a bit warmer and will encourage more golfers and especially non-golfers to attend our social nights
2018 Fingal Seniors (Men) Fixtures
Match 1:
Balcarrick Versus Hollystown
Monday 16th April 2018 assemble at 9am Home, 9.30am Away
Match 2:
Balcarrick Versus Roganstown
Monday 30th April 2018 Assemble at 9am Home, Away N/A
Match 3:
Balcarrick Versus Island GC
Monday 28th May 2018 Assemble at N/A Home, Away N/A
Match 4:
Balcarrick Versus Westmanstown
Monday 18th June 2018 Assemble at 9.00am Home, Away N/A
Match 5:
Balcarrick Versus Corrstown
To be arranged
Congratulations to Lotto Jackpot (€650) Winner Frank Murphy with a winning selection 4, 14, 24
The next 9NDine takes place next Friday 13th April. Timesheet available from 4pm. Golf followed by Supper and the quiz, "Clucko" can't wait!!
Nine and Dine Dates.
Commencing at 4pm each day, Golf tees off from 4pm until 6pm. Supper commences at 8pm. The quiz commences approx. 9.00pm.
If you can't make the golf, come along and have supper and join in the quiz.
30/3/2018 Good turnout despite the weather
13/4/2018
18/5/2018
15/6/2018
6/7/2018
24/8/2018
7/9/2018
Information for New Members
---
Inter-Club Managers 2018 Handicap Requirements
| | | |
| --- | --- | --- |
| Competition | Manager | Handicap |
| Senior Cup | Stephen Ennis | Play off Scratch |
| Barton Shield | Gerry Mulholland | Play Off Scratch |
| Barton Cup | Niall Foley | Combined play off no lower than 14 handicaps. |
| Junior Cup | Willie Killeen | No lower than 4 handicap |
| Jimmy Brun | Les Fitzmaurice | No lower than 6 Combined 15 handicaps. (No Caddies Allowed ) |
| Metropolitan Cup | Niall Foley | No lower than 9 handicaps |
| Pierce Purcell | Anthony Manning | No lower than 11 Combined 25 handicaps. ( No Caddies Allowed ) |
| Irish Mix Foursomes | Richie Walsh/Brenda Hayes | No Lower than 19 hcp combined |
| Uden Cup | Martin Flood | Confined to 12 Hcp as of 1st Jan, effective hcp not to exceed 15 |
| McDonnell Cup | Seamus McDonnell | Confined to 16hcp or over, the maximum effective hcp shall not exceed 19 |
| O'Grady Cup (Mixed) | Jim Robertson | Await Details for handicap requirements |
---
Captains Drive-in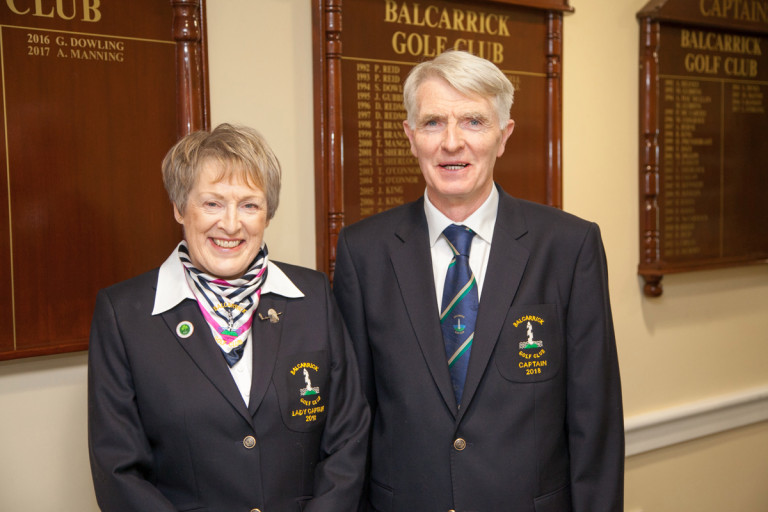 Captains Bridie and James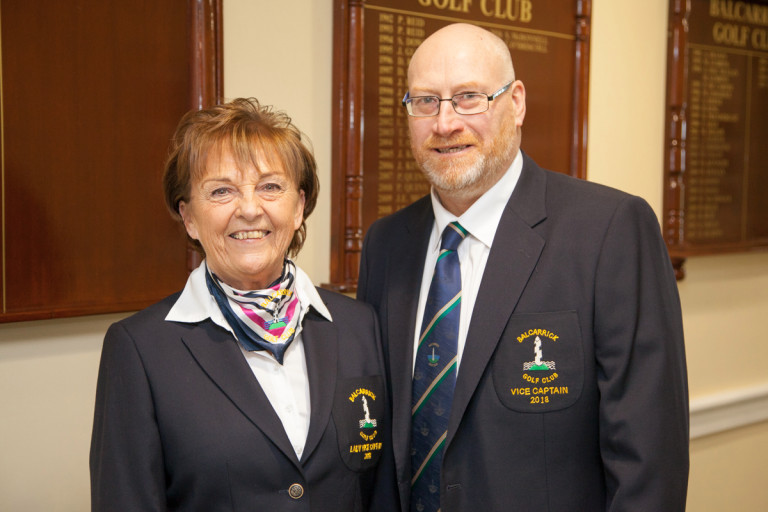 Vice Captains Laura and Jim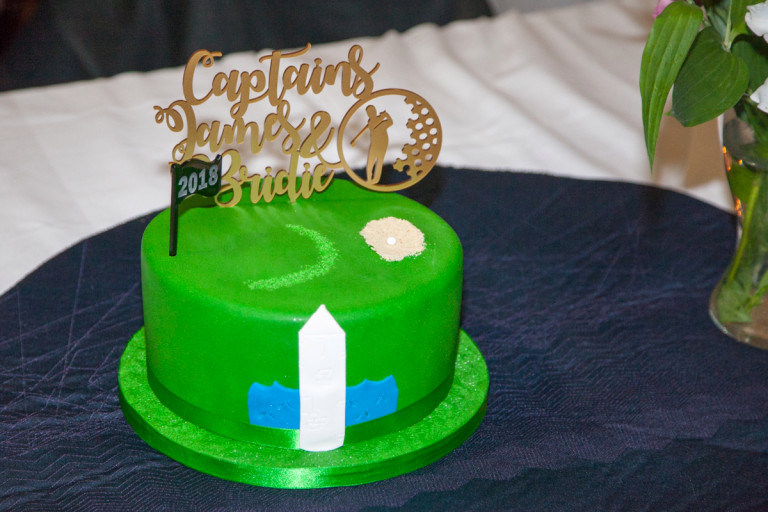 Happy Drive-In Cake
---
Annual Club Raffle Results.
| | | | |
| --- | --- | --- | --- |
| Place | Ticket Number | Winner | Prize |
| 1st | 2014 | Sara Murtagh | 32″ TV |
| 2nd | 815 | Leona Andrews | 32″TV, |
| 3rd | 733 | Humphrey Galbraith | 32″ TV |
| 4th | 745 | Anne Geraghty | Coffee Maker |
| 5th | 2338 | Chris Reid | Coffee Maker. |
Our thanks to all who participated and congratulations to the winners.
---
Monthly Medals
This year we are asking any of our members who can offer sponsorship for our monthly medals (8 for Men, 7 for Ladies) to contact any committee member. A sponsorship package will be tailored made to suit requirements.
---
Captains Drive-In
The timesheet for the Captains Drive-In scheduled for Saturday 3rd February 2018 is available On-Line. There will be 2 booking slots, one commencing at 9pm and the 2nd commencing at 2pm.
The Drive-In agenda:
9am: Shotgun start 13hole Scramble
12.30: Finger Food and Hot Toddies
13.00: Changing the Blazers and speeches
13.30: Drive_Ins
14.00: Shotgun Start 9Hole Scramble
17.00: Annual Draw
Please return all ticket stubbs in time for the annual draw which will now take place Sat 3rd February on Drive-In Day.
The Captains remind all our members to return their ticket stubs for the annual raffle fundraiser. The draw will take place in the clubhouse on Sunday 21st January at 6pm. You can drop the money and the stubs in the Lotto boxes in the clubhouse or leave them in the office on Thursday or give them to any committee member.
The New Captains (James & Bridie) together with President Christy and the Vice-Captains James and Laura, wish all our members, staff and friends of BalcarrickGC all the best for the year ahead and they look forward to meeting as many of you on the course or in the clubhouse during the year. The 1st social engagement happens on Saturday 3rd February with the Captains Drive-In. More details to follow
---
Christmas Greetings
President Christy and Captains Louise and Anthony wish all our members, staff and friends of the club a very happy and safe Christmas and they look forward to meeting as many of you over the festive season in Balcarrick as they can.
Festive Funday
he one day you all want to share, Sunday 17th December …..Santa arrives at 5pm.
12.30pm to 6pm Festive Lunch
2pm to 4pm Childrens Magic Show
5pm The real magic happens…….out of the darkness, across the Balcarrick hills a vision of light appears on the horizon and then Santa appears first as a small bright light then the light glows bigger and bigger until Santa Arrives at the steps of Balcarrick.
What a night to enjoy…… will we see you there
---
BRS Golf By Phone
A Convenient way to access the Timesheet using your phone if your use a smart phone, BRSGOLF is now available to both iOS and Android users. To download the app, go to your App Store and search for BRSGOLF and install. Once installed open the BRS Members Booking App and search for Balcarrick, type in your normal user name and password. Once logged in you can access a host of teetimes and timesheets in Balcarrick. If you are a member of more clubs, you can switch between the 2 on the log in screen.
You can create your buddy list to quickly find and add your friends to your booking.
You can access Open Competitions from course throughout Ireland and even the UK.
---
AGM Dates
Sunday 19th November 2017 (Men's Club) 4pm Reports available on Members Mens Section Private page
Wednesday 15th November 2017 (Ladies Club) 4pm Reports available on Members Ladies Section Private page
Sunday 26th November (Joint Clubs) 4pm Reports available on All Members Private page Password is available on the Members Private page
Motions to either clubs AGM to be sent to Club Secretary no later than 14 days prior to relevant meeting. All reports will be made available on the clubs private members pages of the website www.balcarrickgolfclub.com/members Hard copies will be available to those who cannot access the website by phoning the office and a copy will be made available by arrangement.
Special Notice to members and friends of Balcarrick GC: The annual Mass in memory of deceased members will take place on Thursday 16th November at 7.30pm in the clubhouse. All welcome.
---
Hamper League (Men's Club)
The Men's Hamper League will commence on Thursday 2nd, Saturday 4th November and Sunday 5th November 2017 and will run for 6 weeks, best 4 cards to count, entry fee €5 for each league
The Ladies hamper league is well underway and will continue until end of November 2017.
---
The Final 9NDine 2017
After a heavy shower had passed it turned out to be quite a nice evening. Fortunately we managed to have twenty eight playing the golf.When we adjourned back to the club house we were lucky to have our loyal locals and very welcomed visitors to participate in the Quiz. Assisted by Capt Anthony Manning and Sheila Rafter Doris and Larry Kilroy had another double double again.They won the golf by -33 and the quiz by one point it was that close. All in all it was a good night .
Results

Winners of the golf Capt Anthony, Sheila Rafter, Doris and Larry Kilroy

Quiz winners.

Capt Anthony, Sheila Rafter, Doris and Larry Kilroy.

Sponsors on the night

Ann and President Christy O Driscoll

Dolores Murphy

Doris Kilroy

Sheila Crilly

Mick Tunstead.

We would like to thank the following who all were in involved in running the event .The boys in the pro\shop Trish in the office, Jancinta and staff in the club house our sponsors during the summer Ed Mountaine for all the printing. Philip/Stewy for putting the word out. and of course our members who made the effort to come out on the nights. Many Thanks. The Total raised over the months was one thousand and fifty three euro, which we hope will offset in some way the cost of the cleaning bay. Thanks again.
We congratulate 'The Dubs' on winning #threeinarow, we congratulate Clucko and Clare and all the Cluckos for this fabulous achievement for their son Stephen, Dublin's #3inarow Captain.
Congratulations to the August Medal Winners:
Blue Medal Paul Redmond, White Medal Tom Mangan, Ladies Medal Jackie Connolly.
9NDine Report Friday 4th August
We had a great turnout on the night 46 in total.17 members and 29 visitors. Clucko thinks his reputation for being a hard quizmaster is having an effect on getting more members to attend! Just as wll Clucko has a big family and strangely lots of friends.
The golf was won by Jane & Cathal Barry & Paul Witham. Threeball
R/up Patricia & James Daly with Alice & Gerry O Connor.
Winners of Quiz; Ciaran Higgins Aisling\ Darragh\ and Ritchie Lyons.
Sponsors for the night were Dolores Murphy Aileen James Betty Reilly and Joe Byrne.
The final NineandDine of 2017 is on the 8th of Sept.
Clucko and his Team want to thank to everyone in the club and all involved in the fundraiser for the St Francis Hospice in memory of Member and Past Captain Ray Crilly. A special Míle Buíochas to everyone.
Yours in Golf and Social events
Clucko
Lambay Golf Triangle Learn more for just €95 you get 3 games of golf and a steak meal at Balcarrick Golf Club, Beaverstown Golf Club and Donabate Golf Club. More details to follow
The next 9NDine takes place on Friday 7th July, Timesheet is open. Usual fayre Golf Supper and a Quiz €12.
Please come along for an enjoyable experience, non-golfers particularly welcome. Non-Golfers can participate by being the 'Master Putter' for the team. Its great fun. Why not try it!!
Ray Crilly Memorial
Results.
| | | | |
| --- | --- | --- | --- |
| Winners | Score Net | 57-3 | Paul Bradley Stephen Bradley Josh Mc Donald Andy Murray |
| R/ Up | Score Net | 59-7 | Capt Anthony Manning Martin Flood Tony Burke Sheila Crilly |
| 3rd | Score Net | 59- 9 | Vincent Brereton Fergus Walsh Richie Walsh James Daly |
| 4th | Score Net | 60-3 | Neil Stirling Conor Murtagh Craig Summerville Austin Seagrave |
Longest Drive Ladies Marlene Kennedy
Longest Drive Men Conor Murtagh
Nearest the Pin 5th Hole Conor Murtagh
Nearest the Pin 7th Hole Dougie Fitzpatrick
Nearest the Pin 16th Hole Paul Bradley.
Nine&Dine (9&Dine)
The next 9&Dine will take place on Friday 23rd June, €12 covers Golf, Supper and the Quiz. Please support this fantastic event, come for the supper and the quiz if you can't make the golf 8pm should do it.
The Ray Crilly Memorial Scramble will take place on Friday 16th June commencing at 3.30pm with a shot gun start, price per team of 4 is €100. Price includes Golf, Food and entry to the evening quiz. Non Golfers are welcome to attend the Meal and Quiz for a cost of €15pp. All proceeds will go to St Francis Hospice Raheny. All donations are welcome, Collection buckets will be available all week for anyone wishing to donate to the fund.
Shotgun Start at 3.30pm sharp
For golfers who are participating 'Don't forget to allow adequate time to get to your allotted teebox'
Congratulations to Gavin Fitzmaurice (Winner of Luttrellstown Senior Cup 2017)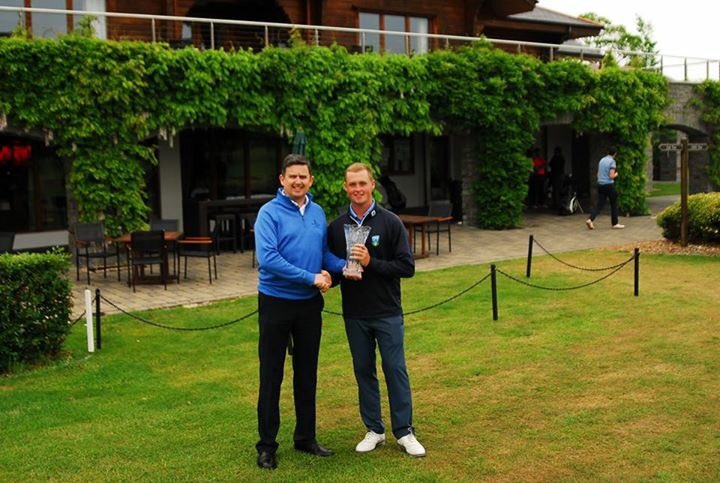 Date for your diary
….The Ray Crilly Memorial will take place on Friday 16th June.. Shotgun Start €100 per team of 4 more details to follow
The next 9NDine will take place on Friday 23rd June……….€12.50 gets you Golf, Supper and a Quiz.
Nine and Dine May 2017 (9NDine) Report
The 'Evil One…Clucko' is quite disappointed that his Quiz Master Ability in under question, More anon,
Good support for the May event and the organisers Pat & Clare are quite pleased with the turnout and participation. The golf was won by the narrowest of margins 0.25pt by the Kilroys (Lar/Doris) and Sheila Crilly and James Robertson, They also won the quiz and so we have a first in we have 'Double Winners', Doris suggested Clucko might make the quiz harder next time by including Classical or Jazz music….enough said!!! So quizzers in Balcarrick….Can you compete for the large prizes involved to take at least the quiz title next time on 23rd June.
Thanks to James and Patricia Daly for sponsoring the May Nine and Dine
Coming in June by popular demand…the June 9NDine will commence at 5pm on Friday 23rd June, Golf, any combination, Non Golfers welcome, Dine followed by the Quiz all in the capable hand of 'Clucko'
What's On this week
What's on this week;
Tues Seniors Open Men,
Wed Ladies Singles, Men 10 Hole Bunnies hcp 19+,
Thursday Open Singles Men,
Sat Singles
Sun Open Singles Men, Club Singles Men & Ladies,
Club information for New Members January 2017
The President (Christy O'Driscoll) and Captains Anthony Manning and Louise Stirling welcome you to Balcarrick Golf Club, The club, founded in 1972 and has made huge progress in those 45 years from having no home (played out of Corballis) to purchasing land which is member owned and developed a championship class 18 hole parkland which was reconstructed in 2008.
Balcarrick GC invites Ladies to get into golf. 8 weeks beginner program commencing on Wednesday 29th March cost €95. Why not come along to our Free taster session Wednesday 22nd March at 6.30pm
Captains' Drive In
The "Captain's Drive In" was a huge success on Sat and it was a great day for the club as well as the 3 Captain's. Thank you to all who helped make it such a great day.
The charity spot the Captain's drive raised €230 for "Prem Babies" and the prize-winner was Mike Kealy. He was one of the few who put their stick down the 18th. Thanks to all the members who thought my drive wouldn't make it off the tee-box! You've all received a 2 shot handicap cut!
Steven Ennis won the prize for the nearest guess to the length of the Captains Drives, only being 2 meters out at 568 meters.
Congratulations to our morning 13 hole comp winners Sean Furlong, Ray Ryan, Padraig Kennedy and Gerry Reynolds. The won with a great score of 74pts. The afternoon 9 hole comp was won on the back 6 and 49 points by Jim Robertson, Stewy Mangan, Gavin Fitzmaurice and Cathal Manning.
Well done to all winners and your prizes are in the committee room to be collected at your convenience.
Thanks again for all the support yesterday and we look forward to it continuing during the year,
Club Lotto
Don't forget to buy your 3 numbers for the Lotto Jackpot, this week the jackpot is €650, 3 numbers (1 to 27) for €2 or 3 go's for a fiver. Draw takes place every Sunday at 5pm
2017 Nine and Dine Series (N9Dine)
The dates for the 2017 Nine and Dine series have been agreed. The 9ndine series is a great social event, not only do you get to play golf, but we follow up with a great quiz, in between we treat you to great supper.
We have a game for the serious golfers, the not so serious and of course we also have the non-golfers who have to master the greens on behalf of their partner (how many times has your non-playing partner said "sure I'd get that myself". Now you can test them, there's no excuse for not attending!!
Friday 7th April
Friday 12th May
Friday 16th June
Friday 7th July
Friday 4th August
Friday 8th September
Captains Message 2017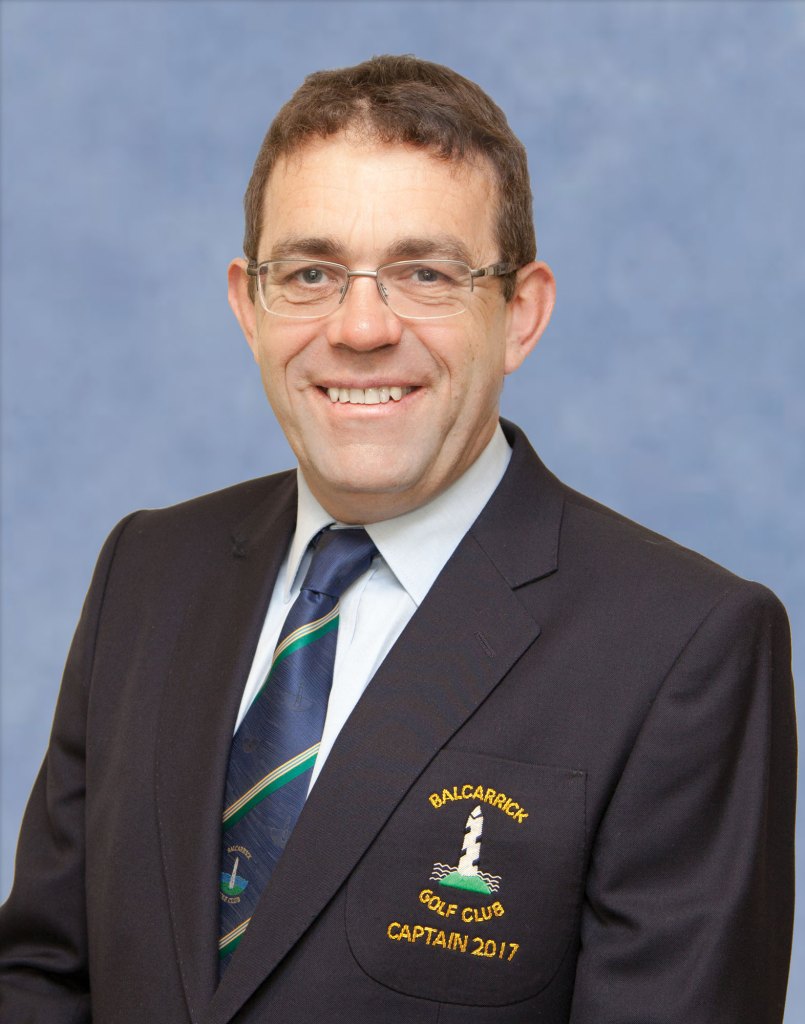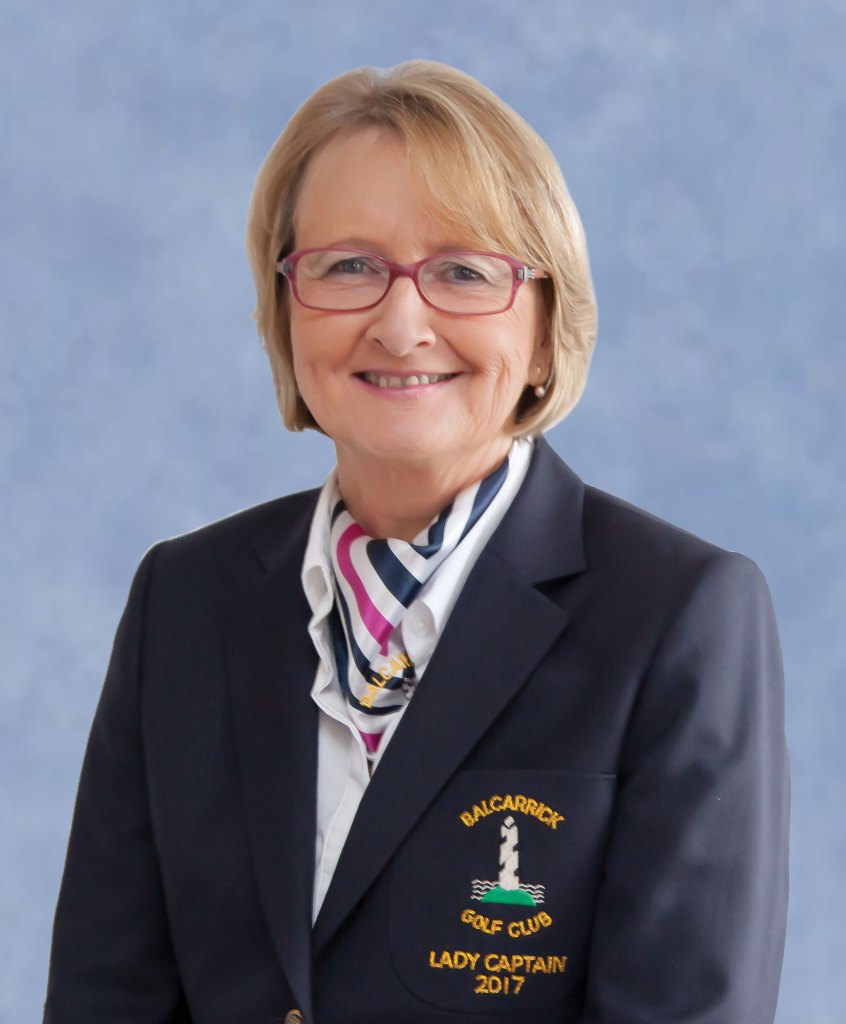 We would like to wish a very Happy New Year to all members of Balcarrick Golf Club and their families. It is a great honour for us to be Lady Captain and Captain for 2017, particularly this year when we celebrate 25 years of Balcarrick Golf Club.
We wish to express our thanks to Teresa Ranson and Gerry Dowling for all their great work in 2016. We also thank Seamus McDonnell for his work as President for the past two years and wish Christy O Driscoll the best of luck as he takes on being President.
The last couple of years have been tough for all golf clubs with numbers playing dropping countrywide. But through a lot of hard work and great commitment to Balcarrick G.C., our committees have ensured the sound management of our great club.
We look forward to your continued support , in any way, in maintaining Balcarrick as a great, friendly place to play golf.
Our Drive in is scheduled for Sat Feb 4th with a shot gun start in the morning and afternoon. Looking forward to seeing you all there and to a great years golf in 2017,
Captains Louise Stirling & Anthony Manning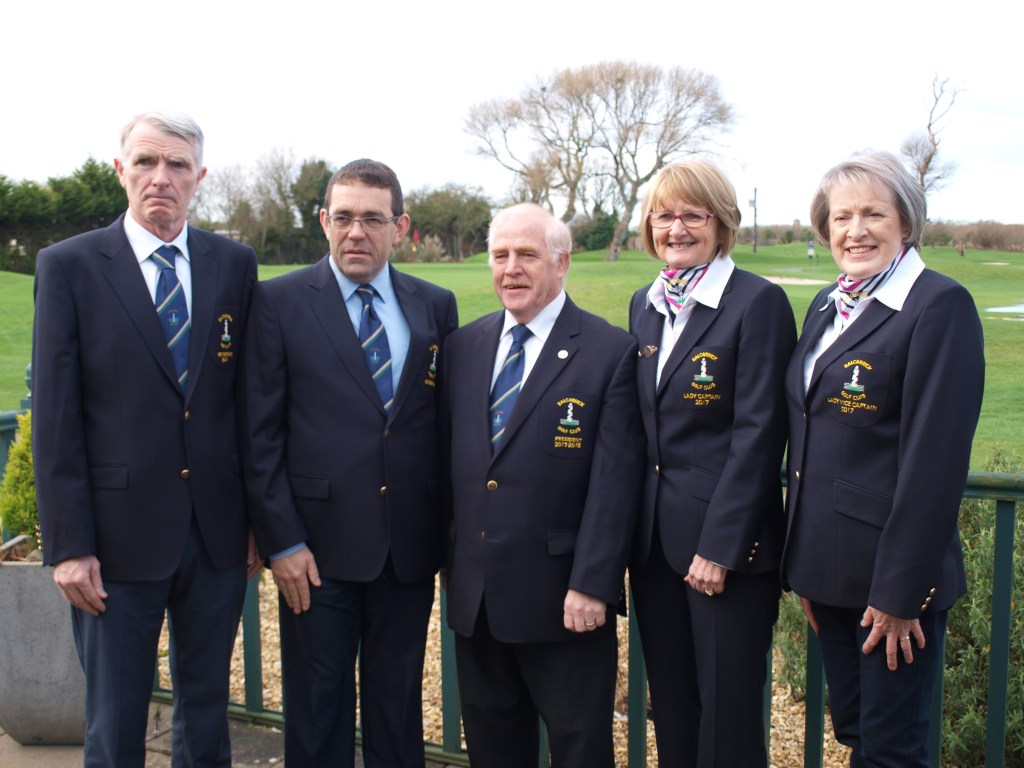 Members: We are looking for sponsors for the Tee Box's on the course. Your logo will be displayed prominently on the Teebox and as an added bonus, we will have a sponsors board in the clubhouse and added to all that we will use your logo to sponsor a page on our website. The website gets over 275K hits every year. Contact Captain Gerry or Captain Teresa, or show expressions of interest by email to Balcarrickgcadm@outlook.com to receive details
Changes to the CONGU Handicapping System commencing January 2016. See summary Here
Car Park
The Car Park is normally closed by the Bar Staff at the end of each day, members should ensure they establish a time with Bar Staff for gate closure to prevent vehicles being locked in the car park if playing late.
Handicap On-Line
To check your handicap on-line, go to members page and select handicaps on line, enter your club number and Golfnet password