Course History
The Homeless Golfers (1968 – 1972)
In 1968 an inspired group of like minded golfers met initially in the Waldorf Astoria Hotel and formed the Homeless Golfers Association. Their aim was to make playing golf more accessible to all. For Irish Independent article, click here.
Balcarrick Golf Club wishes to recognise the contribution to golf made by our founding fathers, and current Honorary Members Malachy Nulty, Larry Courtney, Anthony Hyland and Pat Ruddy (of European Golf Club fame) and by the late Jack Nulty, Tommy Dent and Peter Dunne (after whom the Peter Dunne Trophy, one of our major competitions, is named).
Dublin & County Golf Club (1972 – 1992)
Was founded by the homeless golfers in 1972 when Dublin County Council opened the public golf course in Corballis. The club acquired a site next door to the council's pavilion and built a club house. Dublin & County was the first Golf Club, that did not own its own course, to gain affiliation to the Golfing Union of Ireland.
Balcarrick Golf Club (1992 to date)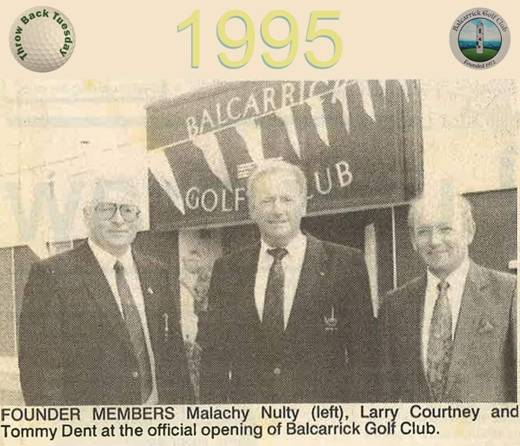 Owing to the growth of the sport, members of Dublin & County Golf club experienced difficulty finding time available to play in Corballis, the public course. The time allotted for club competitions in the public course was simply not enough to meet member demand. To resolve this problem, a member of the club and local land owner, the late Jack Collins, suggested that a course could be built on his land. With this generous offer and the offer of additional land from the Smith Family, the members of Dublin & County decided to build their own course.
The members of Dublin & County Golf Club renamed the club on the opening of their new nine hole course in 1992. In the same year, Balcarrick members approved a new constitution, granting full membership to Ladies and changing from Trust to Limited Company status. In 1995 the course became an 18 hole course under the guidance of course designer, Barry Langan. The current club house facility opened in 1997.
In 1999, the members approved the purchase of the 50 acres required for our second 9, thus exercising our option to buy out this land which had been leased since 1992. This purchase was financed through a one off levy of ir£250 per member.
In 2006 the members approved re-development of the course – for details click here.
In 2007 Golf Course Architect, Roger Jones redesigned the course and engaged Dar Golf Construction Ltd. to complete the work – for details, click here.
The redesigned course was officially opened on 28th June 2008. For Irish Times report, "Clever links between land and water", click here.
Since 2009: The club has adapted to recent economic realities and customer demand by waiving entrance fees, lowering membership subs & green fees, initiating fundraising events, reducing costs and increasing marketing activity. We have also re-designed and re-launched our website, completely renovated the men's changing room, showers and toilets and established a buggy club for members with reduced mobility. The club has a long established culture of living within its means, as evidenced by reporting modest profits to its members for 2009, 2010 and 2011 (unlike most golf clubs in Ireland). In 2014 the club realised it had to re-design the website again, taking into account members needs for simpler, faster avenues to news and information and links to social media . The new website went live in August 2014.
Current member numbers (including juniors) are approx. 700.
2011 saw another historical first in the election of a lady, Marlene Kennedy, as the first female President of Blacarrick GC.
For link to National Hole in One Club, please click here.
If you have any historical information or photos relating to the club, please contact webmaster@balcarrickgolfclub.com.
2002 – 2011
Balcarrick Golf Club won the Leinster Final of the Irish Mixed Foursomes in 2003. The team was Marlene Kennedy, Sandra Halligan, Mary Hackett, Frances Daly, Teresa Ranson, Terence Kelly, Philip Mohan, Hugh LaBlanc, Alan Brown and Richard Gordon. Team managers were Dorothy Moynihan and Pat Dillon.
Balcarrick Golf Club won the O'Grady Cup in 2002.
Prior to 2001
Balcarrick Golf Club (then Dublin & County GC) won the All-Ireland Pierce Purcell Shield in 1984. The team was Tommy Finnegan, Jim Dwane, Sean Fagan, Larry Doyle, Paddy McEvoy, Gerry Dowdall, Stephen Minogue, Tommy Dent, Jimmy Reilly and Malachy Nulty. Team manager was Pat Doris.
Balcarrick won the Leinster final of the Pierce Purcell Shield in 1987. The team was Joe Byrne, Derek Wade, Pat Doris, Paddy McEvoy, John McCabe, Malachy Nulty, Vincent Smith, Eddy Fulton, Jack Collins, Jimmy Reilly, Mick Tunstead and Tommy Dent.
Balcarrick first won the Leinster Final of the Pierce Purcell Shield in 1983.
Balcarrick won the Uden Cup in 1996 when the team was K. Herrity, Jack Collins, T. O'Connor, Tommy Dent, T. Kelly, J. McLoughlin, M. Byrne, J. Dwan, J. O'Connor, S. Minogue, B. Foy, Malachy Nulty, Eddy Fulton and Tony Byrne, they were captained by B. Galligan.
Balcarrick won the McDonnell Cup in 1980 and 1981.
Balcarrick Ladies captured the fifth-team title, in the Clarins-sponsored Autumn Team finals of the ILGU Eastern Branch, at Lucan Golf Club in November 2000. They overcame Hazel Grove in a thrilling match, that was decided on the 20th, when Patsy McGonagle, clinched the first women's title in the history of the Club. For Irish Times article, click here.
Junior Golf
Junior Boys Team, Andrew O'Reilly, Mark Brennan, Bobby Ryan, won the Andy Desmond Trophy in Portmarnock on 3rd May 2010. Team Caddy was Alan O'Reilly & Junior Convenor was Michele Callan. For Fingal Independent Article, please click here.